KNIME Component Collection – new for 2020.2 release
The 2020.2 CSD Release includes several new features - including our first CSD KNIME Component Collection.
What is KNIME?
KNIME is a leading data analytics, reporting and integration platform that is used in a wide range of industries including pharmaceutical research. It has a modular data pipelining approach that allows easy drag-and-drop creation of visual workflows for data manipulation, machine learning and general computation, without the need for complex programming or scripting by the end user. The KNIME Analytics Platform is also free to use and open source.
How can the CSD KNIME Component Collection support my research?
The new CSD KNIME Component Collection brings together the powerful workflow and integrations capabilities of KNIME with the accurate data and powerful software within the CCDC Portfolio. This combination means that research can be done faster and more efficiently, allowing users to get to grips with the concept of building their own custom analyses without having to learn complex scripting.
This first release of the collection includes functionality in the following areas:
Text/Numeric Searching, such as Compound Name and Author searches
2D Structure Search, including Substructure and Similarity searches, though no constraints or measurements are available as yet
GOLD Docking, including Ligand preparation (from SMILES), note that Docking is configured using a prepared in advance gold.conf file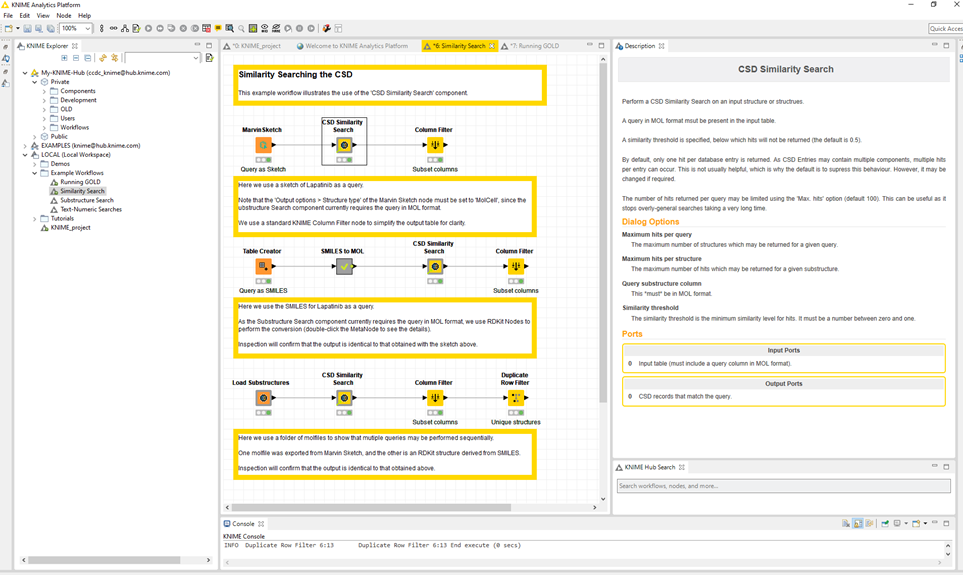 Search example workflow
This first release comprises a basic set of functionality and is designed to start a conversation with the community. Tell us what you think of the CSD KNIME component collection, and any requests you have for components to include in the future.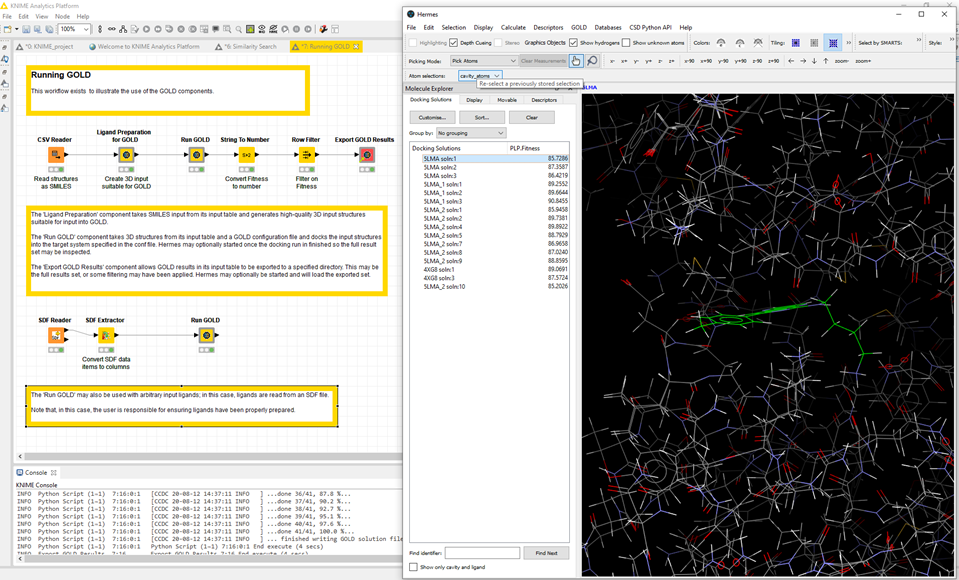 GOLD Docking example workflow
How can I access the CSD KNIME Component Collection?
The CSD KNIME Component Collection is available now from the KNIME Hub here. In order to use these components, you will need to have all necessary CCDC software and databases installed and to have the appropriate licenses. For the Search components and the Mercury viewer, you will need to have at least a 'CSD-System' license. For GOLD docking and the Hermes viewer, you will need to have at least 'CSD-System + GOLD' or a 'CSD-Discovery' license. The documentation for the CSD KNIME Component Collection is available from the User Guide section of our website for more details on installation and set-up.
Want to learn more?
Our What's Up webinar on 24th September 2020 covered the CSD KNIME component collection in more detail, including a demo. Watch it on demand here.
To find out more about the other features in the 2020.2 CSD Release – see our What's New page.
To see some of the other partner software the CCDC Portfolio integrates with, see our Partner Software page here.
If you have any questions or feedback about this or any other features in the CCDC Portfolio, you can always get in touch here.
Tags
KNIME (1)
Release 2020.2 (3)