History of the CCDC and the CSD
The CCDC grew out of the activities of the crystallography group led by Dr Olga Kennard OBE FRS in the University of Cambridge. The group began to collect bibliographic, chemical, and crystal structure data for small molecules and encode it electronically.
This would become the Cambridge Structural Database (CSD), one of the first numerical scientific databases to begin operations anywhere in the world.
Now a self-funded charity, the CCDC pursues its core mission; to advance structural science for the public benefit.
Today, the CSD and associated software are essential tools used by thousands of scientists globally.
Knowledge from the over 1 million structures now in the database, and advanced analyses in the CSD software, informs the development of novel drugs, agrochemicals, catalysts, semiconductors, materials, and more around the world.
See how the CSD is used in the case studies here.
First X-ray diffraction experiment in crystals
First International Union of Crystallography (IUCr) Congress Meeting
Mooted existence of C-H•••O hydrogen bonds in crystals
Cambridge Structural Database (CSD) Founded
"The database was established in 1965 to fulfil a dream of myself and the great scientist, the polymath J.D. Bernal. We had a passionate belief that the collective use of data would lead to the discovery of new knowledge, which transcends the results of individual experiments."

Olga Kennard, 1997, "From Private Data to Public Knowledge"
Dr Olga Kennard set up the Cambridge Crystallographic Data Centre (CCDC)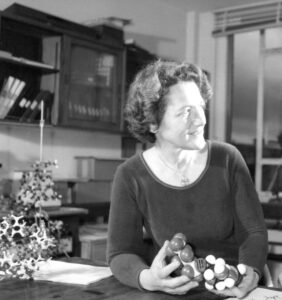 Dr Olga Kennard, founder of the CCDC and CSD
Protein Data Bank founded
AABHTZ — the first alpha refcode
Inorganic Crystal Structure Database founded
Japan Association for International Chemical Information (JAICI) partnership established
CCDC established as a Registered Charity
Allen et al. determine average bond lengths using CSD data
Development of CIF format
Relocation to award-winning building
Bruno et al. show geometrical preferences of hydrogen bonds
David Hartley appointed Executive Director
IBEZUK — the 250,000th structure added to the CSD
Frank Allen appointed Executive Director
Bruno et al. automate retrieval of molecular geometry data from the CSD
Colin Groom appointed Executive Director
EFEMUX01 — the 500,000th structure added to the CSD
Crystal Form Consortium established
This industry consortia let to the development of the CSD-Materials software for solid form analysis and development.
Wood et al. visualize interaction preferences in crystal structures
CCDC Inc formed to support CSD users in the Americas
ZOYBIA — the 750,000th structure added to the CSD
Launch of CSD-Discovery software
A set of tools to support novel molecule discovery.
Advanced Digital Design of Pharmaceutical Therapeutics (ADDoPT) program launched
Juergen Harter appointed CEO
Cole et al. generate predicted conformers using CSD data
CCDC Software becomes CCDC Services Ltd
XOPCAJ — the 1,000,000th structure added to the CSD
Olga Kennard awarded 12th Ewald Prize