Easy and Convenient Access to the Wealth of Structural Knowledge in the Cambridge Structural Database
WebCSD allows users to search for a specific structure and also find the context of the structure in relation to its originality and/or comparison to other known molecules. Original deposited data can be obtained and exported for further analysis.
Gain big-data insights with multiple search options including substructure, reference, unit cell, and text terms including known polymorphs. For more advanced searches, including 3D, context, and criteria mapping, see ConQuest. For on-site access to proprietary data see On-Site WebCSD.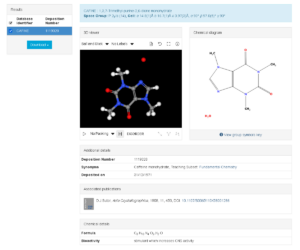 Features
Ease of access
Online searching with no installation required.
Obtain the deposited data
Obtain original deposited data and export results for further analysis.
Chemical substructure search
Search from a 2D molecular sketch including chemical constraints such as charge, hybridization state, and cyclicity.
Wide range of text and numeric database search options
Locate structures based on compound name, formula, elemental composition, literature reference and experimental details.
Fields
Academic Research

Agrochemical Software

Crystallography

Pharmaceutical Software
Use Cases
End-to-End Molecular Design

Search, Visualise and Analyse Known Small Molecules
Learn more
See our complete and up-to-date technical FAQs in our knowledgebase at the link above.
FAQs
How many searches can I perform?
We would like to access proprietary data - is there an 'on premise' solution?