Analysing molecular geometries 101 - basics of Mogul
Introduction
Mogul geometry check can help identify inconsistencies within a crystal structure and can suggest values to be used for restraints during refinement.
In this workshop you will explore how to use Mogul to assess the geometry of a molecule using the information from over 1.1 million structures in the CSD.
Learning Outcomes
How to run a geometry check in Mercury.

How to launch Mogul from Mercury.

How to interpret the results obtained.

How to restrict the geometry check to a specific feature of a loaded molecule.
Requirements
or
Feeling comfortable with basics of Mercury vizualisation:

Navigating the Mercury interface.
Editing styles and colours.
Displaying packing diagrams.
This module takes less than 2 hours to complete.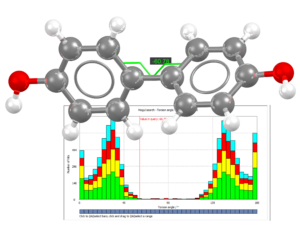 Next Steps
Feedback
How was it? Leave your feedback here – it takes less than 5 minutes.
Ready for more?
Head back to the CSDU home page and continue learning.