How do I update my CSD software installation?
Solution
Check the version of the software you have installed (via Help -> About in any CCDC program).
If you have a 2022 or earlier version, you will need to uninstall it and install the latest version. See our 2023 installation video or if the standard GUI install does not work for you this FAQ may be of help: Installation of the 2023 CSD Portfolio software and data. Once you have installed a 2023 or later version of the software, you should no longer need to carry out a complete uninstall and reinstall, because of our new flexible installer and maintenance tool.
If you have a 2023 or later version, the CSD software suites have a built-in auto-update mechanism that makes updating the software easy, and will also notify you if a software or data update is available. The auto-update system is available via the Mercury and Hermes interfaces. Each will check for an update after being open for five minutes and if it determines an update to any CCDC software or data is available it will let you know. You can also initiate a manual check by going to the Help menu in either program and selecting 'Check for Updates'
Once the auto-update mechanism has identified an update is available, you will be given the option to either install on exit or not at this time (the software cannot be updated while it is running).
You can also check for software and data updates via the CCDC maintenance tool which can be found in the CCDC installation directory - choose "Update components" on the opening screen.
.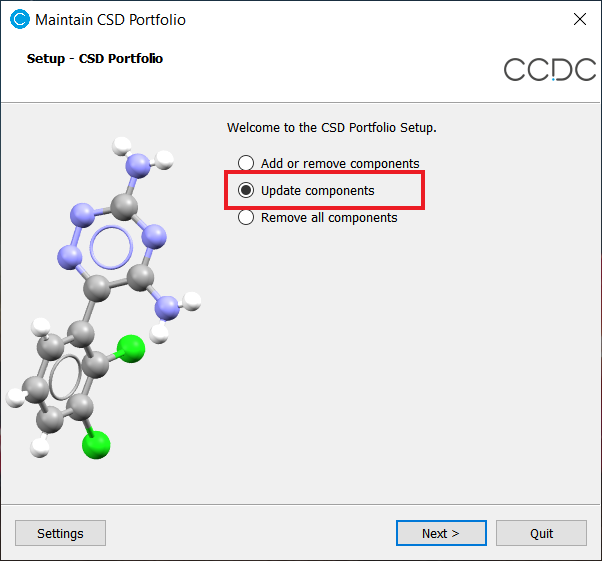 If you used the offline installer, check this FAQ for steps on how to update your install
To keep informed about new releases and software and data updates, log into the CCDC website, go to your profile, scroll down and click the button to update your email preferences.