How can I manage my CSD licence?
If you have a CSD licence you can find out more about it in a few ways - and our new online licence portal has made it easier than ever.
Do I have a CSD licence?
In Mercury, you can tell if you have a licence by going to Help / About CCDC Mercury. This will open an information window that specifies which features are licenced, your licence type, and expiry date.
In WebCSD or access structures, you can that tell your licence is linked to your website profile because the advanced search methods (structure search, unit cell search, and formula search) will be accessible.
The licence holder can also see details about their licence, including the number of activations available and number used, in our online licence portal here.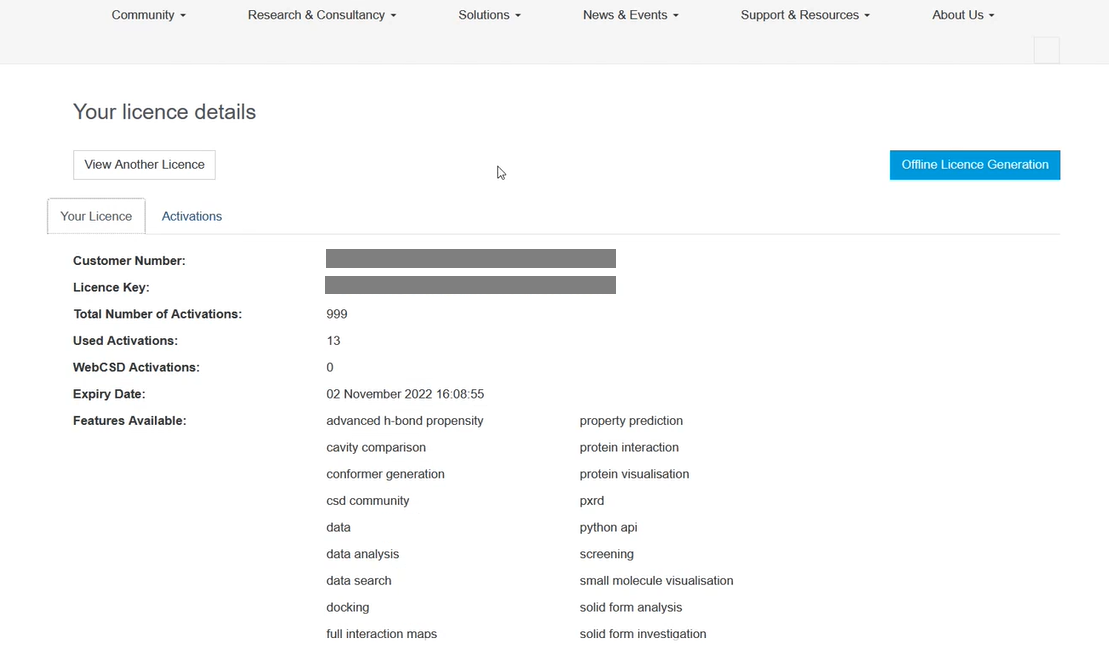 Viewing licence details in the online CCDC CSD licence portal. 
Do I need a CSD licence?
To use the full CSD database and software functionality, a licence is required. We have options to suit all sizes of academic and commercial organisations, just contact us here and we'll be able to advise.
There is a limited data set and version of Mercury available for free with CSD-Community. These are suited for teaching up to early undergraduate level, or for basic visualization of structures only. See a full comparison of free mercury vs full licence mercury here.
Learn how the CSD data and software enables drug discovery and development, functional materials design, agrochemical development and more in our collection of case studies here.
How can I create an offline activation for my CSD licence?
The licence holder can now create their own offline activations via our online licence portal.
After signing in, enter your customer number and activation key and you will be able to create an offline activation in just a few clicks. This can be taken to the offline machine by your preferred method.
How can I remove or delete a CSD licence activation?
To deactivate an instance of your CSD licence, you will need to contact our team on
See what's new in the latest CSD releases here.
Stay up to date on releases, events and more with our monthly newsletter here.
Tags
CSD System (49)
Licensing (2)
Release 2021.3 (4)