CCDC Engagement Grants Open for Applications
The next round of the CCDC Engagement Grants are now available to inspire the next generation of scientists with a love for crystallography and structural science. Find out all you need to know here including how to apply.
What are the CCDC Engagement Grants?
Launched in 2022, the CCDC Engagement Grants contribute to the costs to create STEM outreach resources or activities that enhance schools and public engagement in crystallography and structural science.
Outputs range from videos, social media content, games, posters, or any activity that is related to the topic.
Applications are now open! If you have a project that might benefit from a CCDC Engagement Grant, follow the link and apply before 31st October 2023 (11:59 pm GMT).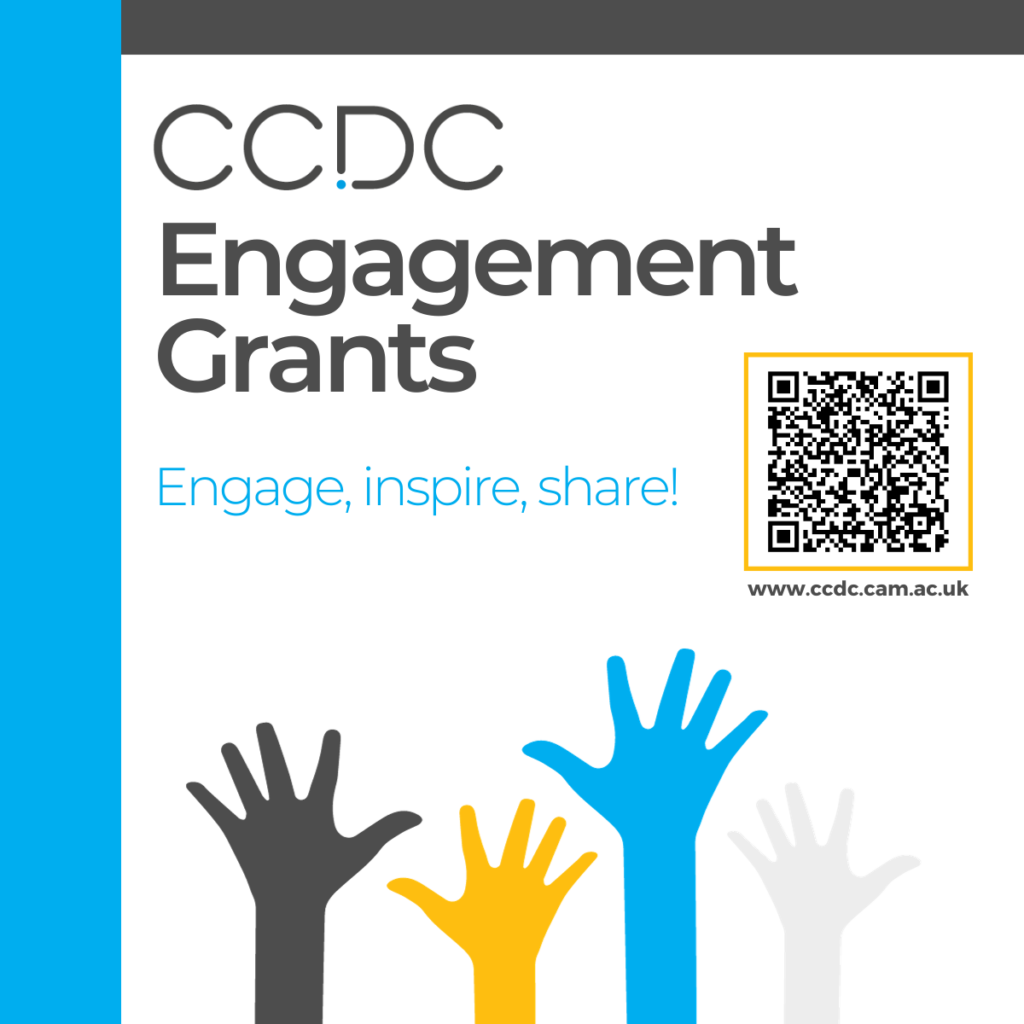 Supporting the Mission of the CCDC
The mission of the CCDC is to advance structural science for the public benefit. The CCDC Engagement Grants contribute to this mission by supporting our community to inspire the next generation of scientists and the public by creating engaging resources.
The grants were launched in 2022, aiming to support outreach activities in the structural science community. Thanks to the creativity of the past project winners, a variety of resources were produced and are now available for use as activities in classroom and science festivals.
Resources From Engagement Projects
The engaging resources created from the six project winners of the past CCDC Engagement Grants consist of various formats and are adaptable to a wide audience.
For the younger audience, examples include:
A booklet of activities and fun games to introduce children to chemistry and crystallochemistry;
A self-learning experimental kits to create rock candies;
For adults, curious people, examples are:
A collection of reels covering a variety of crystallographic topics, with particular focus on protein crystallography;
A roll-and-write board game to learn about stereographic projections of space groups and symmetry elements;
Examples of projects more focused to classroom activities are:
A project promoting in-person activities to teach students the basics of crystallography;
A project that aims to reach students in rural areas and in reclusion centres;
In reality, all of these valuable resources are open to anyone that has an interest in science and is willing to share it with others through engaging activities.
To reach out to as many people as possible, some of these resources are also available in different languages, including English, Italian, German, French, and Spanish. Find out more here.
From a Previous Winner
We talked with Leonardo Feletto, one of the previous winners of the grant, to find out more about how a CCDC Engagement Grant supported his outreach activities.
Hello Leonardo, Please Tell Us About Your Project
"The CCDC Engagement Grant that my collaborator and I secured was focused on communicating the role of crystallography in studying biological molecules, and its contribution to significant scientific breakthroughs."
"Our project aimed to simplify complex concepts, tracing the evolution of crystallography techniques, and highlighting their historical importance. By showcasing how crystallography unveiled biological atomic structures, we illustrated its profound influence on understanding cellular processes, drug development, and disease mechanisms. All of this was condensed into engaging one-minute videos which were published on social media. Through these videos, we aimed to make crystallography accessible and highlight its essential role in shaping our understanding of life at its molecular level."
Where Did Your Interest in Participating to This Grant Come From?
"Right from the start, the CCDC Engagement Grants intrigued me with their focus on blending science with public engagement. The chance to make complex scientific concepts easier for a wider audience is truly captivating."
"I've always believed that science shouldn't be confined to science classes and labs, but should reach everyone. This project offered an exciting way to share my love for crystallography involving a broad public, regardless of their scientific background. The prospect of sparking curiosity and making science more approachable allowed me to grow as communicator, making a step towards more inclusive science communication."
What Motivated You to Apply for the Grant?
"I was motivated to join the CCDC Engagement Grants to get the chance to connect science with a wider public. My aim was to lead a science communication project creating contents that could engage diverse audiences. Simplifying hard concepts for broader comprehension excited me, aiming to foster greater scientific appreciation.
"Coordinating my own project honed my outreach skills, letting me design my science communication strategies with the help of my collaborator and the CCDC. This opportunity not only allowed me to share the marvels of crystallography but also expanded my network, and hopefully enriched society's scientific awareness."
Would You Recommend Taking Part in the CCDC Engagement Grants? If Yes, Why?
"Based on my experience, I'd totally recommend taking part in the CCDC Engagement Grants. This can be a great way to challenge yourself in turning complex and technical concepts into easy-to-digest content and boost your communication skills."
"It's wonderful to witness people of all ages engaging with science. Plus, being associated with the Cambridge Crystallographic Data Centre gives you a legit platform to share your work. If you're into both science and engaging people, this project is a fantastic chance to grow personally, spread the love for science, and make it accessible to all."
Leonardo Feletto, CCDC Engagement Grant winner 2022.
Bring Your Ideas
Our structural science community supports outreach activities through the CCDC Engagement Grants. Bring your value to the community with new, creative ideas that can inspire others to love crystallography and chemistry too.
The CCDC Engagement Grants aim to engage with young students, non-experts, or anyone who wants to discover and be inspired by the wonders of crystallography. Apply today for your chance to secure one of these grants. We will provide the funding to cover the realization of your project and help you to inspire others.
Tags
Crystallography (17)
Education (4)
Education and Outreach (24)
Engagement Grants (2)