White paper: Understanding drug selectivity and pocket druggability
Data-driven drug design with "Ensemble Hotspot Maps"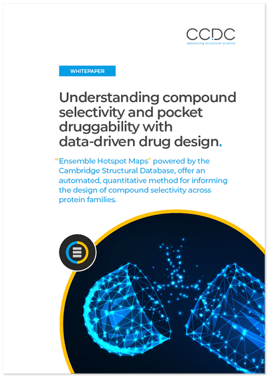 Understanding compound selectivity is vital when designing novel pharmaceuticals. The extent of on- and off-target effects, or potential polypharmacology, informs modifications to develop safe and effective drugs.
In this white paper we present a data-driven method which visualizes binding site comparisons across a protein family, to deeply understand selectivity and pocket druggability.
These "Ensemble Hotspot Maps" are derived from peer-reviewed, experimentally-generated data in the Cambridge Structural Database, and automated to rapidly and visually guide target validation and drug design.
In this white paper you will learn:
Use cases: how ensemble hotspot mapping can improve your drug-design.
Data-driven origin: how ensemble hotspot maps are derived, and how to access the script to run the analysis.
Pharma industry impacts: how leading pharmatech ExScientia have implemented the approach in their workflows.
Research impacts: how a University of Cambridge team used fragment hotspot mapping to understand their DNA-PKcs target (as published in Nature)
WHITE PAPER DOWNLOAD