Neon: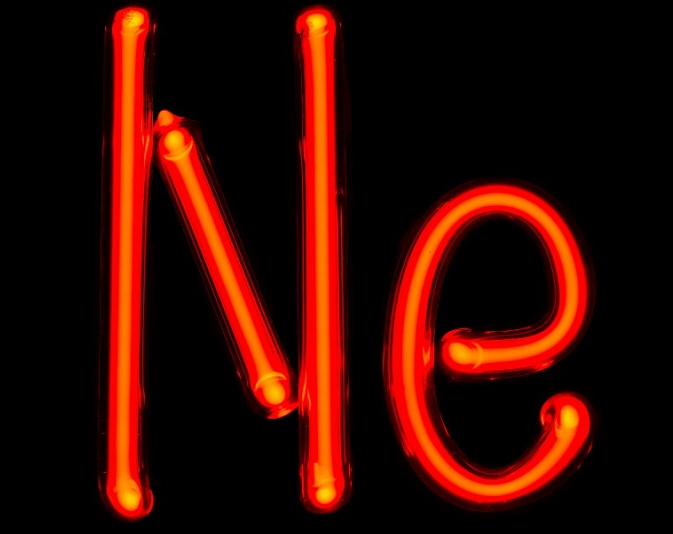 Image of Neon being using in a neon light which produces a red/orange light and is often seen in signs.
Facts about Neon:
Neon:

Colourless, odourless gas at standard conditions

Fun fact about Neon:

Neon light is a critical part of airports that operate in cold regions where they regularly get fog. Unlike other types of light, it does not get obscured by fog!

Chemical symbol:

Ne

Atomic number:

10
A crystal structure containing Neon: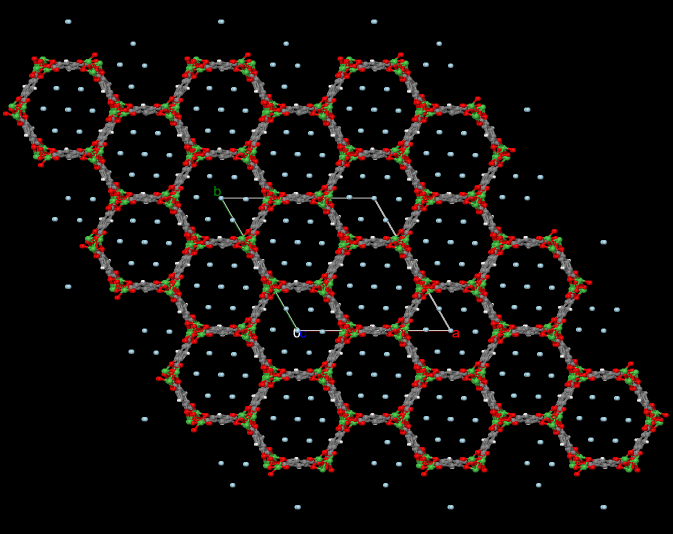 Image showing how neon, displayed as blue dots, is captured inside the channels of a Metal Organic Framework structure.
Facts about this structure:
Formula:

(C8H2Ni2O6)n,0.92(Ne)

Structure name:

catena-[(μ-2,5-dioxidoterephthalato)-di-nickel(ii) neon]

Fun fact about the structure:

This structure was the most recent to add a new element to the Cambridge Structural Database

CSD refcode:

AQUCOG (What's this?)
Associated publication: Peter A. Wood, Amy A. Sarjeant, Andrey A. Yakovenko, Suzanna C. Ward, Colin R. Groom, Chemical Communications, 2016, 52, 10048, DOI: 10.1039/C6CC04808K
More info:
Neon is the fifth most abundant element in Earth's atmosphere and a vital part of the semiconductor industry, yet it was only very recently that the element was able to be observed in an organic crystal. Neon is a noble gas and doesn't really want to share its electrons. This makes it incredibly difficult to capture a compound including neon. In late 2015, researchers used a highly porous material known as a Metal-Organic Framework (MOF) to capture neon crystals. They then used the technique known as Powder X-ray Diffraction to determine the location of the neon in the pore of the MOF. The first crystal structures of neon in this type of organic environment were published in 2016.
More info about the International Year of the Periodic Table (IYPT) in crystals project:
This project (#IYPTCrystals) is part of the International Year of the Periodic Table celebration (#IYPT2019), read more about the project here. You can follow us on social media using #IYPTCrystals and learn more about the wonders of crystals by following the CCDC on Twitter @ccdc_cambridge on Facebook ccdc.cambridge, on Instagram ccdc_cambridge or on YouTube CCDCCambridge.
If you want to find out more about some of the terms and concepts we have a Frequently Asked Questions Page.
A visualisation showing the structure containing Neon alongside other structures published in the same scientific article:
---