Copper: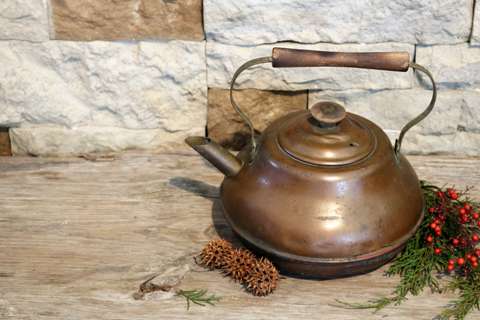 Image of an old tea pot made of copper
Facts about Copper:
Copper:

Reddish metal, ductile and malleable, with high thermal and electrical conductivities.

Fun fact about Copper:

Copper is the second element with the highest thermal and electrical conductivities. Indeed it is used as wire for conducting electricity.

Chemical symbol:

Cu

Atomic number:

29
A crystal structure containing Copper: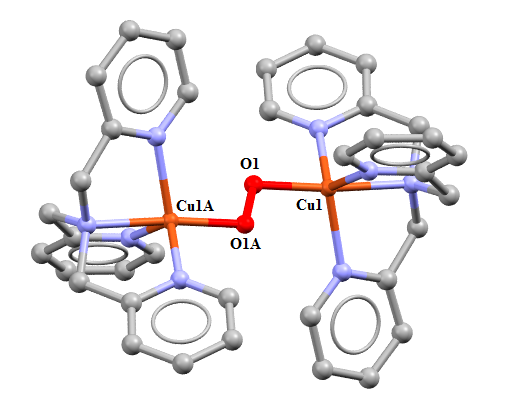 Structure of a copper-dioxygen complex that mimics type 3 copper centre in proteins as tyrosinase.
Facts about this structure:
Formula:

C

36

H36

Cu2

N8

O2

2+

,2(F

6

P

–

),5(C

4

H10

O

)

Structure name:

(μ2-Peroxo-O,O')-bis(tris(((2-pyridyl)methyl)amine-N,N',N",N"')-copper(ii)) bis(hexafluorophosphate) diethyl ether solvate

Fun fact about the structure:

This structure was the first compound mimetic of type 3 centre copper proteins (a pair of copper centres, each coordinated by three histidine residues) added to the Cambridge Structural Database

CSD refcode:

GECRAH (What's this?)
Associated publication: R.R. Jacobson, Z. Tyeklar, : Farooq, K.D. Karlin, S. Liu, J. Zubieta, J. Am. Che. Soc., 1988, 110, 3690, DOI: 10.1021/ja00219a071
More info:
Copper is found both in the free metallic state in nature (native copper) and being part of minerals such as chalcopyrite, chalcocite, cuprite, malachite and azurite. Its name is derived from the Latin word "cuprum", which in turn evolved from "aes cyprium" meaning the "metal of Cyprus", since this island had a copper mine that supplied this metal for the Roman Empire. Copper is also present in the human beings playing a determinant role on the action mechanism of a great variety of enzymes like ceruloplasmin.
More info about the International Year of the Periodic Table (IYPT) in crystals project:
This project (#IYPTCrystals) is part of the International Year of the Periodic Table celebration (#IYPT2019), read more about the project here. You can follow us on social media using #IYPTCrystals and learn more about the wonders of crystals by following the CCDC on Twitter @ccdc_cambridge on Facebook ccdc.cambridge, on Instagram ccdc_cambridge or on YouTube CCDCCambridge.
If you want to find out more about some of the terms and concepts we have a Frequently Asked Questions Page.
A visualisation showing the structure containing Copper alongside other structures published in the same scientific article:
---