Bismuth: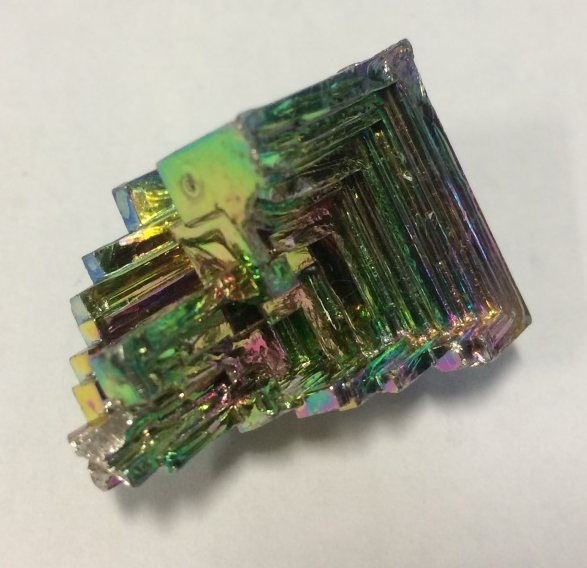 Image showing a lab-grown sample of bismuth, with iridescent sheen due to a surface layer of bismuth oxide.
Facts about Bismuth:
Bismuth:

metallic grey element

Fun fact about Bismuth:

Bismuth is used medically to treat some stomach upsets as bismuth Bismuth Subsalicylate (as Pepto bismol in the UK).

Chemical symbol:

Bi

Atomic number:

83
A crystal structure containing Bismuth: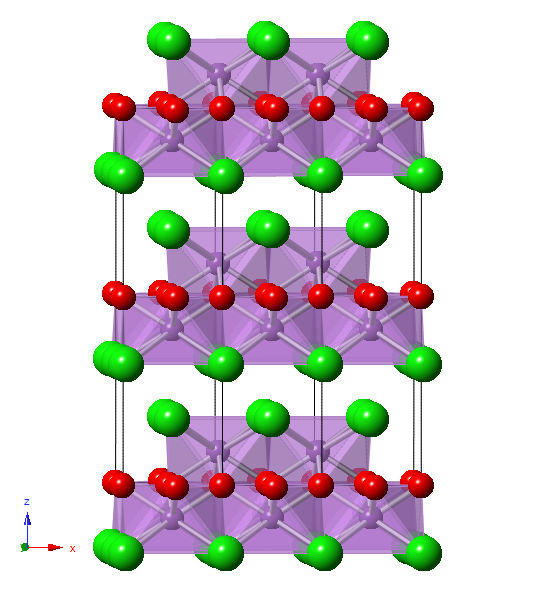 Crystal structure of bismuth oxychloride, BiOCl, showing bismuth, oxide and chloride ions in purple, red and green, respectively.
Facts about this structure:
Formula:

BiOCl

Structure name:

PbClF type

Fun fact about the structure:

Bismuth oxychloride BiOCl gives pearlescence in cosmetics, and currently investigated for its photocatalytic properties.

ICSD number:

29143 (Find out more about the ICSD database)
Associated publication: J. Y. Xiong, G. Cheng, G. F. Li, F. Quin, R. Chen, RSC Advances, 2011, 1, 1542, DOI: 10.1039/c1ra00335f
More info:
Bismuth is one of the most strongly diamagnetic materials; it's metallic but fairly brittle and a solid at standard conditions (but melts at 271°C). The metallic element is grey in colour but the iridescence on the surface of the sample shown above is due to a thin layer of bismuth oxide on the surface. Bismuth is said to be the heaviest element with a stable nucleus. Its most stable cation Bi3+ has an interesting electronic configuration which makes it useful in functional materials.
More info about the International Year of the Periodic Table (IYPT) in crystals project:
This project (#IYPTCrystals) is part of the International Year of the Periodic Table celebration (#IYPT2019), read more about the project here. You can follow us on social media using #IYPTCrystals and learn more about the wonders of crystals by following the CCDC on Twitter @ccdc_cambridge on Facebook ccdc.cambridge, on Instagram ccdc_cambridge or on YouTube CCDCCambridge.
If you want to find out more about some of the terms and concepts we have a Frequently Asked Questions Page.
A visualisation showing the structure containing Bismuth alongside other structures published in the same scientific article:
---