Machine Learning partnership to accelerate discovery of novel drugs
CCDC and Pharmacelera combine virtual screening and machine learning expertise to help scientists accelerate drug discovery
Barcelona and Cambridge, UK, 26th June 2019. The Cambridge Crystallographic Data Centre (CCDC) and Pharmacelera have reached an agreement to perform a joint research project to reinforce the results obtained by structure-based in-silico technologies via ligand-based tools. GOLD, CCDC's docking software used to identify small molecules binding a therapeutic target and PharmScreen®, Pharmacelera's flagship software, that identifies novel candidates by reference to the properties of known ligands, will be used together to improve the quality of virtual screening campaigns.
"Ligand-based methodologies are complementary to molecular docking studies", said Ilenia Giangreco, Head of Discovery at CCDC. "Virtual Screening campaigns will benefit from taking the best of GOLD and PharmScreen®. The aim is to increase the chances of finding compounds that are active against a specific target and perform subsequent drug discovery steps more efficiently" she added.
"We are very happy to have CCDC, a globally-recognised research organisation, as a strategic partner" said Enric Gibert, CEO of Pharmacelera. "PharmScreen® uses unique algorithms that find molecules within unexplored chemical space, thus leading towards enhanced chemical diversity compared to existing ligand-based technologies. We believe that progressing hand-in-hand with CCDC and GOLD  will offer an excellent opportunity to obtain scientific relevant results" he added.
For more information visit: www.pharmacelera.com or contact: Enric Gibert at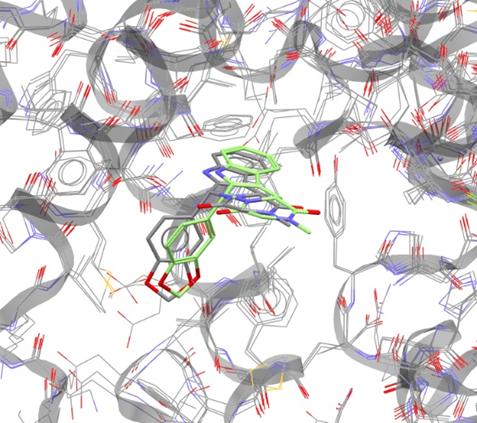 Ensemble docking using CCDC's GOLD software
About CCDC
CCDC are world-leading experts in structural chemistry data, software and knowledge for materials and life science research and application.
They are dedicated to the advancement of chemistry and crystallography for the public benefit.  They specialise in the collation, preservation and application of scientific structural data for use in pharmaceutical discovery, materials development and research and education.
CCDC compile and distribute the Cambridge Structural Database (CSD), a certified trusted database of fully curated and enhanced organic and metal-organic structures, used by researchers across the globe.
Their cutting-edge software empowers scientists to extract invaluable insights from the vast dataset, informing and accelerating their research & development.
About Pharmacelera
Pharmacelera is a Barcelona-based company that applies Quantum-Mechanics (QM) and Machine Learning (ML) for rational drug design. The company has developed PharmScreen®, a ligand-based virtual screening based on more than 25 years of research at the University of Barcelona, and sells usage licenses and services around this technology to pharmaceutical R+D.