CCDC Expands Global Talent Pool with Ghana-based Orgmento
CCDC extends its partnership with Orgmento, a Ghanaian software engineering and data sciences company.
The partnership, which started in 2021, has been strengthened by the shared commitment to engineering excellence from both organizations, and has now been extended for a further 3 years.
Software engineering teams from the CCDC and Orgmento will build software to advance structural science.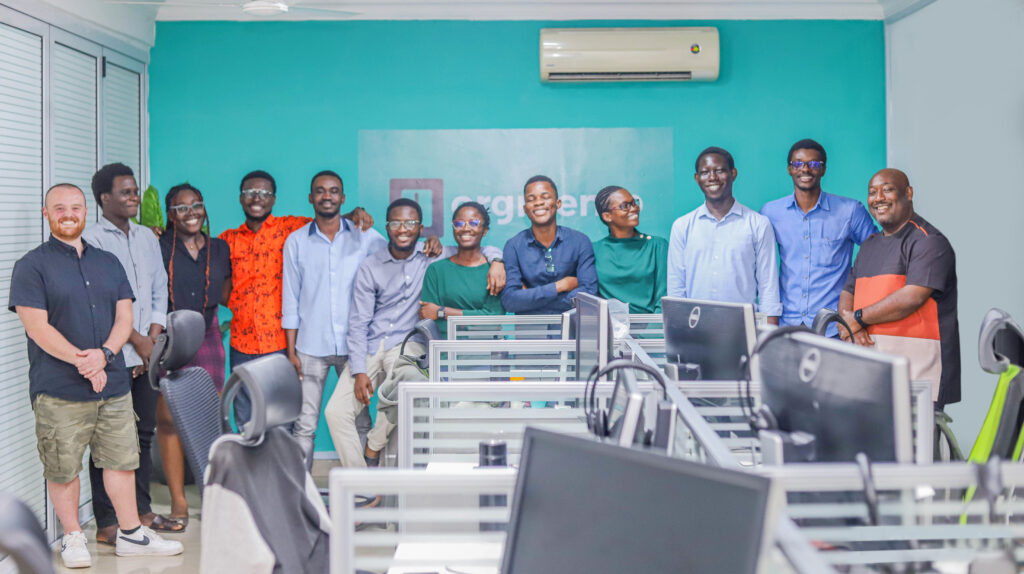 We announce a three-year extension with partners Orgmento, a software engineering and data sciences company based in Accra, Ghana.
Orgmento delivers sustainable professional development in software engineering and data sciences from Africa, supporting clients in creating expertly designed, adaptable software and data solutions that align with their partners' organizational goals.
Through the partnership, Orgmento software engineers work alongside CCDC colleagues on CCDC structural science software and tools used by scientists across the globe in pharmaceutical discovery, materials development, research and education.
The philosophy of Orgmento focuses on creating a positive impact in Africa by empowering local talent with opportunities to grow and thrive in software engineering and data science. This vision aligns with the values of the CCDC, who are committed to shaping the future of structural science by serving global scientific communities for the public benefit.
The partnership has evolved through various stages, with the Orgmento engineers being upskilled remotely in crystallography and CCDC's engineering tools and processes, before joining CCDC's teams as fully-fledged remote contributors.
Dr Jürgen Harter, CEO, CCDC, said "We are delighted to extend our engineering partnership with Orgmento, further strengthening our commitment to supporting research and education in underrepresented communities and making structural data more accessible worldwide."
"The enrichment derived from the partnership has been immeasurable for all. While Orgmento benefits from the expertise of CCDC in crystallography and structural analysis, the partnership also affords CCDC the opportunity to diversify its global workforce and perspective," says Patrick Simpe-Asante, Orgmento co-founder and Director of Software Engineering.
"We look forward to continuing to leverage our respective strengths and expertise, as we maintain our partnership with CCDC into the future," he continued.
While the partnership has been entirely remote for the past 18 months, Sean Large, a senior software engineer at CCDC, had the opportunity to meet the Orgmento software engineering team in-person in Accra, Ghana, this summer. As well as being able to experience Ghanaian culture first-hand, it was also an opportunity to reflect on the onboarding process and further strengthen the already thriving business relations between Orgmento and the CCDC.
More Information
Additional Quotes
"The unwavering commitment and strong work ethic exhibited by Orgmento and their team of engineers has driven a substantial increase in overall productivity at CCDC. Furthermore, the cooperative mindsets and delightful personalities have given rise to a greatly enjoyable and collaborative working environment." – Sean Large
"As a software engineer, my time at Orgmento/the CCDC has been incredibly enjoyable. I'm amazed by the trust placed in me for important engineering implementations and I value the constant support when things get challenging. This not only brings me great satisfaction but also valuable learning experiences, contributing to my personal growth and technical development. The work environment is fantastic, and I'm excited by our future collaborations in advancing structural science." – Elvis Yeboah-Duako
"After having taken a career switch, Orgmento/the CCDC is exactly the kind of place I'd have wished for. I have never felt out-of-place. My teams are supportive and always willing to assist and I have access to experienced software engineers and architects who are open and willing to share their knowledge whilst also valuing my input." – Ayishetu Seidu
Tags
CCDC (6)
Crystallography (19)
CSD (141)
Partnerships (7)