Transform pharmaceutical and fine chemical manufacturing by anticipating and eliminating potential bottlenecks with the new CSD-Particle suite
New informatics software from the Cambridge Crystallographic Data Centre draws on data from 1.1M validated and published crystal structures to guide formulations decisions with a deep understanding of particle behaviour.
Desktop software giving speed and accessibility.
Draws on data from 1.1M+ validated crystal structures.
Manufacturing bottlenecks anticipated include flow, wettability, tabletability and stickability.
Cambridge, UK – 19 July, 2022 – the Cambridge Crystallographic Data Centre (CCDC) today announced the launch of CSD-Particle, a new suite of informatics tools to anticipate manufacturing bottlenecks and guide formulation decisions with a deep understanding of particle behaviour.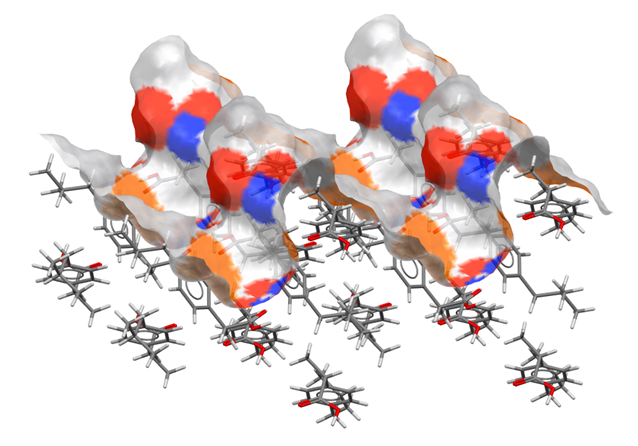 Surface chemistry – the functional groups that contribute to a surface of ibuprofen.
A van der Waals surface, generated during analysis with CSD-Particle, shows the surface chemistry at the 002 surface of ibuprofen (CSD Refcode: IBPRAC). Surface colours indicate the properties of the atom closest to each point on the surface: hydrogen bond donors are blue, hydrogen bond acceptors are red, and aromatic groups are shown in orange.
Drawing on data held in the Cambridge Structural Database (CSD), this new suite of visual and statistical tools will allow scientists working in pharmaceutical and fine chemical manufacturing and formulation to rapidly analyze the mechanical and chemical properties of crystalline particles.
Crystallisation scientists, formulators, computational materials scientists, and particle scientists can perform particle shape and surface analyses to anticipate manufacturing issues such as sticking, wettability, and tabletability.
Visual displays of surface chemistry, charge and topology can be used to guide manufacturing decisions, eliminating potential bottlenecks before they occur.
"The launch of CSD-Particle further enhances the knowledge and deep understanding that can be gained from the world's largest database of experimentally determined small-molecule organic crystal structures. Powerful algorithms for molecular analysis and a simple desktop interface will greatly help in the elimination of potential manufacturing bottlenecks, saving valuable time and resources."

Dr Jürgen Harter, CEO of CCDC.
Several large pharmaceutical companies have aided and guided the development of CSD-Particle, including AstraZeneca and Bristol Myers Squibb.
"Our collaboration with CCDC has been making steady progress, especially around the development of new features in CSD-Particle. We believe these new capabilities such as morphology prediction and crystal surface exposure analysis will ultimately help bridge the gap between our understanding of particle scale properties and the performance of drug products. This knowledge will be pivotal to improving development timelines for pharmaceutical products in the future."

Dr. Stephen Thomas (Modeling Scientist) and

Dr. Amy Sarjeant (Associate Scientific Director), Bristol Myers Squibb, NJ, USA
For more information, please visit the CSD-Particle web page.
The CCDC is holding a CSD-Particle webinar on July 21st where the software and it's powerful applications will be demonstrated live. More information and registration here.
Press Contact
Sophie Bryant, Marketing Manager, sbryant (at) ccdc.cam.ac.uk
Notes to Editors
Interviews with CCDC scientists and C-level executives available upon request.
Stunning molecular images for both print and electronic use available upon request (credited: Image generated using CSD-Particle. Courtesy of the The Cambridge Crystallographic Data Centre (CCDC)).
Tags
CSD-Particle (8)
Drug Development (43)
Manufacturing (1)
Pharmaceutical (10)
Pharmaceuticals (43)