The CCDC announce the launch of polyhedral visualisation software
Driving deeper scientific insights from structural chemistry through novel visualisation capabilities
The Cambridge Crystallographic Data Centre (CCDC), world leading providers of structural chemistry data and insights for materials and life sciences, have announced an update to their Mercury software, a widely adopted solution for crystal structure visualisation, exploration and analysis.
The CCDC curates a database of nearly one million experimentally determined chemical structures – the Cambridge Structural Database (CSD). This data is used in research worldwide across industries ranging from pharmaceuticals and agrochemicals to catalysis and gas storage. The CCDC has developed a range of revolutionary analysis tools that interrogate this vast high-quality data set to accelerate research and development.
This latest update facilitates access to a simple, intuitive option for scientists to visualise metal-organic structures using polyhedral representations. This delivers better understanding of both chemical structure and properties, significantly aiding the analysis, design and prediction of a metal-organic compound's behaviour in materials development.
The use of the CSD in pharmaceutical and agrochemical industries is already well-established; beginning in the 1980's in drug discovery before developing to encompass solid form research and design. The CCDC's product development programme, coupled with the quickly expanding data set, underpins emerging applications in new industries. The CSD is becoming a fundamental resource for research into new materials such as batteries, paints, pigments and dyes, and in particular the development of gas storage frameworks and tailored catalysts. As environmental contamination and sustainability become increasingly important there is considerable potential on a global scale.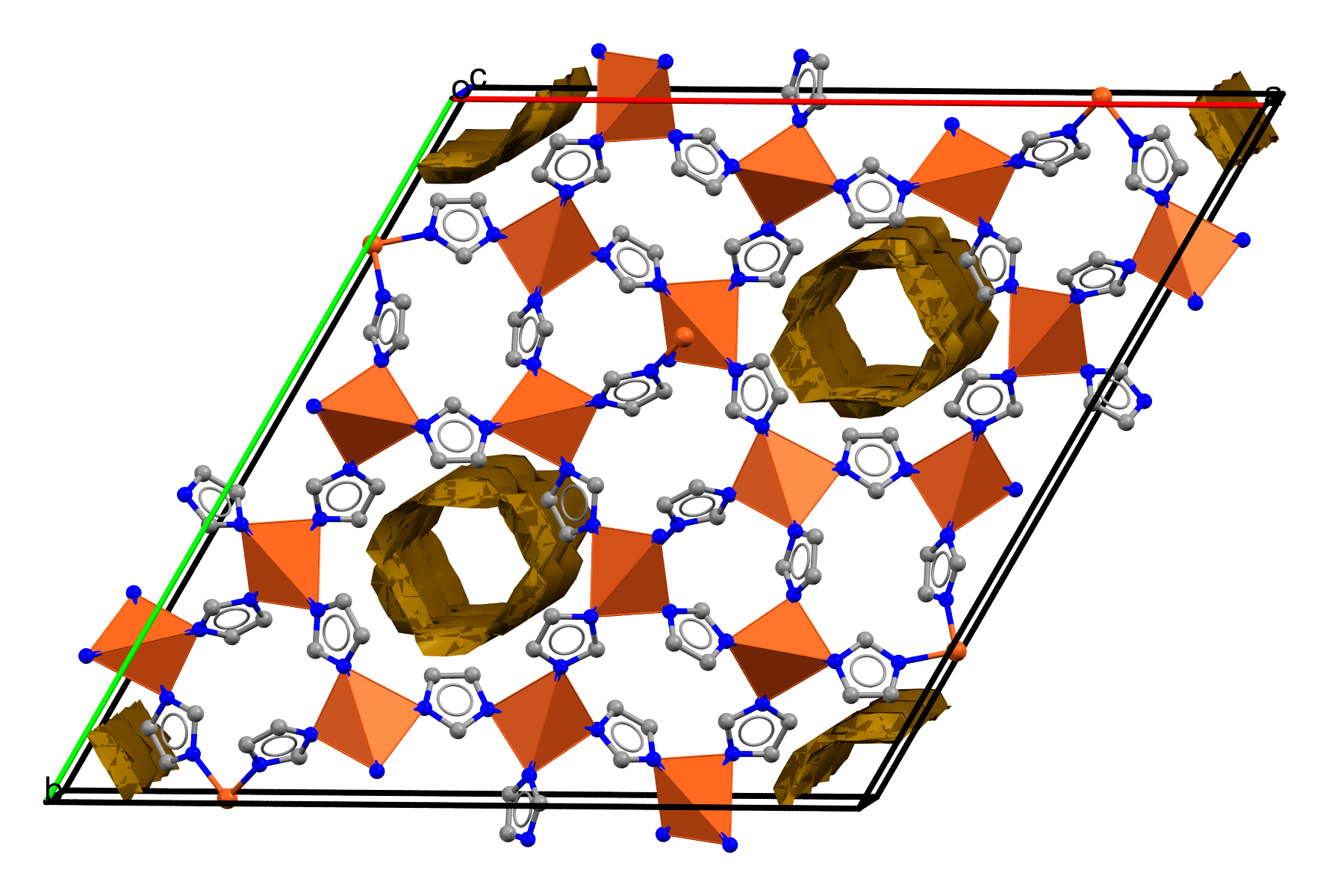 Polyhedral representation of a polymorph of a copper zeolitic imidazolate framework (often called a 'ZIF'). The chemical stability, robust porosity and thermal resistance of ZIFs has resulted in research into their use for applications such as carbon capture (Refcode CUIMDZ01 in the CSD.)
'The CSD currently contains just under one million structures, and metal-organics constitute more than half of the data, with the percentage of metal-organics having risen steadily over the years from around 40% in the 1970s to over 57% now. We therefore recognise the need for further investment in software features targeted towards this area of the CSD. This not only presents our users with enhanced functionality and ease of use, but also enables us to better engage with our users in both academia and industry', commented Pete Wood, Product Manager for CSD-System and CSD-Materials at the CCDC.
The CSD is the world's only fully curated and enhanced database for organic and metal-organic crystal structures. Each structure that is added to the database undergoes strict validation and cross-checking and every entry is enriched with bibliographic, chemical and physical property information, adding further value to the raw structural data.
The focus for the CCDC is to ensure users can gain easy access to this data, enabling interpretation of the structures in a chemically meaningful way, and ultimately streamlining and accelerating their research and development within new industries on a global scale.
Juergen Harter, CEO of the CCDC, commented 'The CCDC's product development roadmap is fed by our users' feedback and questions as well as dynamic social, economic and environmental challenges that are changing this industry. Using our strong relationships and commitment to our user base, we are able to continue to build more efficient and consistent search capability, analysis, and high-quality visualisation tools to ensure our users can access and make the best use of our high-quality dataset. This latest release is just one in an exciting development plan for 2019.'
About The Cambridge Crystallographic Data Centre (CCDC)
The Cambridge Crystallographic Data Centre (CCDC) is dedicated to the advancement of chemistry and crystallography for the public benefit. It supports structural chemistry worldwide through collaborative research studies and by developing the Cambridge Structural Database (CSD), the world's only comprehensive, up-to-date, and fully-curated knowledge base of small molecule crystal structures.
The CSD was established over 50 years ago as one of the world's first numerical databases and now comprises nearly a million entries. The CCDC enhances its value to research scientists by providing state-of-the-art structural analysis software and expert research services for receptor modelling, ligand design, docking, lead optimization, formulation studies and materials research. All entries in the CSD are available online and the entire database and associated software services are delivered to around 1,400 research sites worldwide, including academic institutions in 80 countries and all of the world's top pharmaceutical and chemical companies.
Originating in the Department of Chemistry at the University of Cambridge, the CCDC is now a UK Research Council Independent Research Organisation and a University of Cambridge Partner Institute, constituted as a registered charity. It has operations in Cambridge and New Jersey. With over 50 years of scientific expertise, the CCDC has demonstrated its strong track record in basic research through more than 750 peer-reviewed publications.