How to do a 3D structure search of the CSD online with WebCSD
The latest update to WebCSD which went live today allows for 3D substructure searching to be performed online. This functionality was previously only possible in the desktop software ConQuest, so we hope this makes 3D search more accessible to all. Here we show you what's changed, and how to get started using 3D search.
All of these features are now live for people with a CSD-Core, CSD-Discovery, CSD-Materials or CSD-Enterprise licence — including full academic licences. You do not need to perform an installation or update to see them, they will be visible the next time you log in.
If you are using an On-Site WebCSD or CSD-Theory Web to manage your proprietary structures and proprietary predicted structures, contact our support team (support@ccdc.cam.ac.uk) to enable these features on your instance.
How to upload MOL files to search in WebCSD
You can now upload a .mol file to search for a structure. This should help to save you time in re-drawing complex molecular structures. Simply select the upload icon in the top left corner of the sketcher in WebCSD.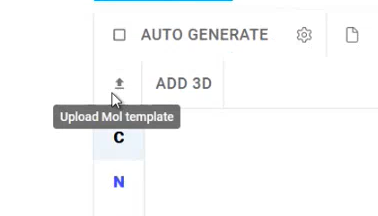 Get hints and tips in WebCSD
Hints will now pop up in the bottom right hand corner the first time you start using WebCSD. These are designed to help you navigate the options. Use the toggle to turn them off.
The hints will only appear the first time you perform an action. If you wish to see all hints again, toggle the hints off and on again and they will reset.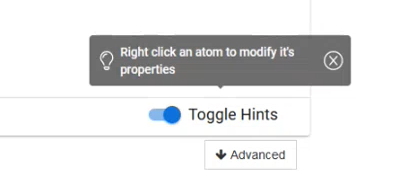 How to add 2D constraints to a search in WebCSD
Add 2D constraints to your WebCSD search to make it more exact — for example by specifying the hydrogen atoms on a given atom.
To access this menu, right click on a given atom in your sketch.
How to add 3D constraints to a search in WebCSD
Hold down shift and click on multiple atoms to select them, defining where you want to apply the constraint.
Click the Add 3D button in the top left corner to open the 3D constraints panel.
Select the type of constraint you wish to apply; angle, centroid, plane, vector, or point on line (formerly dummy points in ConQuest). Toggle the "constrained" option to yes.
Enter your constraint values, and click ok. The constraint will be visible on the sketch only when the 3D constraints panel is open.
Click search to perform the search. As you browse the results the portion of the structure matching your search is highlighted in green, as shown below.
Learn more
Try the new features out for yourself in WebCSD now. You must be logged in with a valid full CSD licence to access these features.
If you have questions or need help, contact our support team.
If you would like to use an on-site instance of WebCSD to manage your proprietary experimental or predicted molecular structures, contact admin@ccdc.cam.ac.uk to ask for more information.