Small molecules make up over half of the 50 novel drugs approved by the FDA in 2021
According to a recent article in Nature Reviews Drug Discovery, the Food and Drug Administration (FDA) in the US approved 50 novel therapeutics in 2021. 28 are small molecules (other than peptides and radiolabelled molecules). In this blog, we look at the newly approved therapeutics available in the Cambridge Structural Database (CSD).
Drug approvals in the US 2021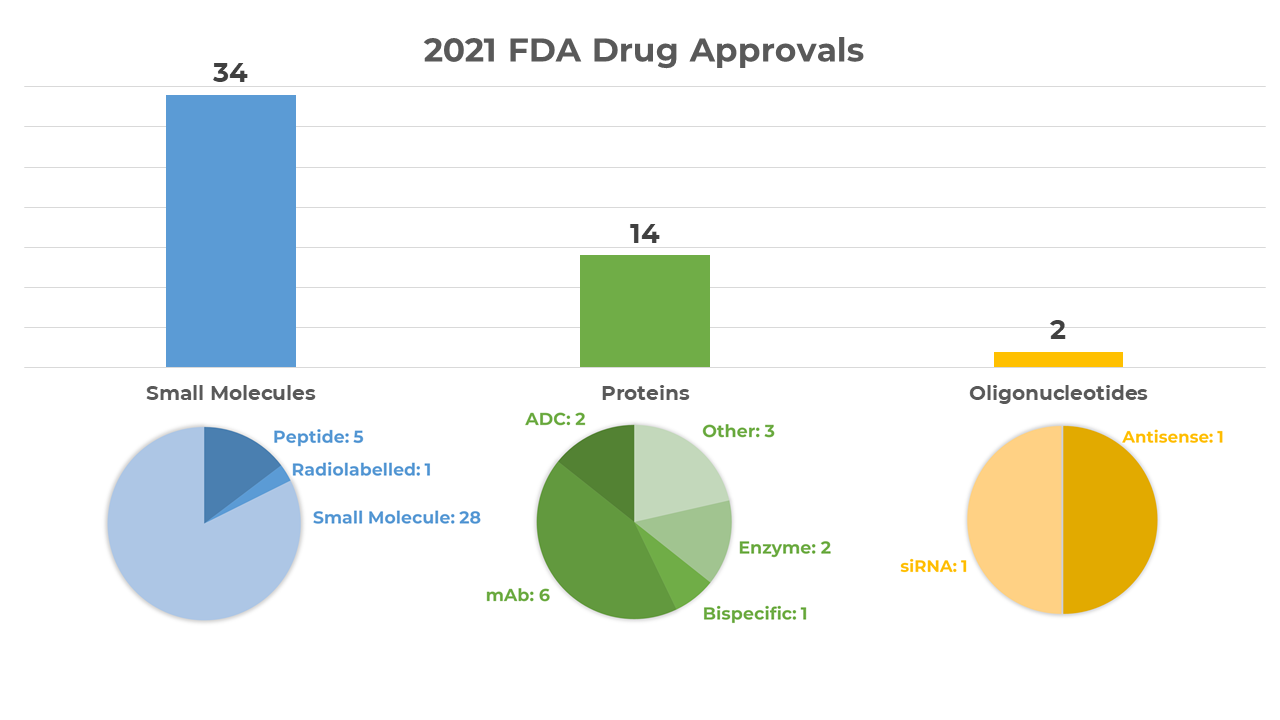 FDA drug approvals by type in 2021, Source: Nature Reviews Drug Discovery.
The overall approval count declined just slightly since the previous year. In 2020, the FDA's Center for Drug Evaluation and Research (CDER) approved 53 new therapeutics, 38 of which were small molecules. Examples in the CSD from last year's approvals are available here.
2021-approved drugs available in the CSD
In 2021, small molecules still accounted for over half of the total approvals. Five are currently available in the CSD. You can view all the structures below via WebCSD.
Rilpivirine
Rilpivirine is an HIV-1 antiviral. CSD refcode: OMAKOE01.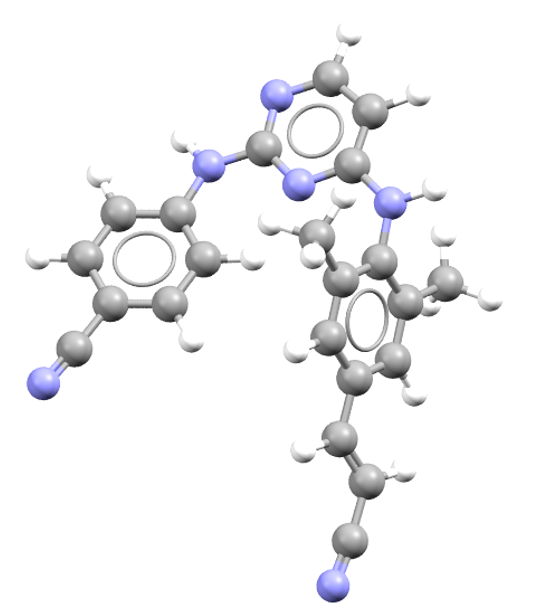 Dexmethylphenidate
Dexmethylphenidate is an ADHD treatment. CSD refcode: YEGVIS.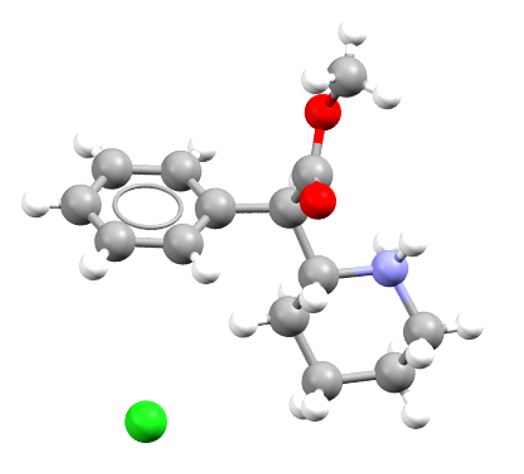 Drospirenone
Drospirenone is used in pregnancy prevention. CSD refcodes: XEZTON, XEZTON01, XEZTON02, XEZTON03.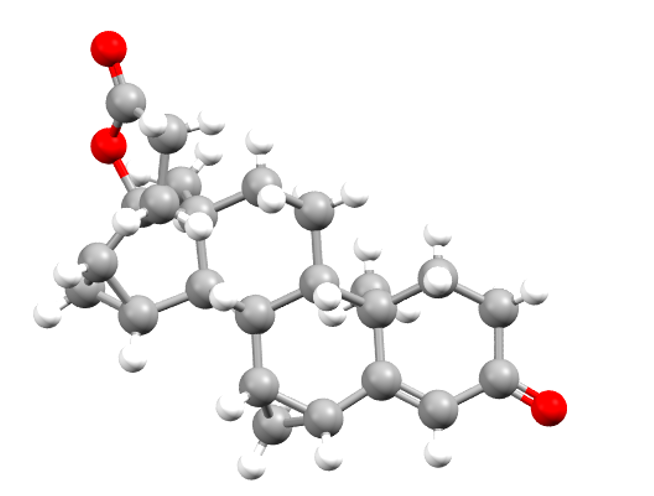 Olanzapine and Samidorphan
Olanzapine is used in the treatment of schizophrenia and bipolar I disorder. CSD refcodes: UNOGIN, UNOGIN01, UNOGIN02, UNOGIN03, UNOGIN04, UNOGIN05.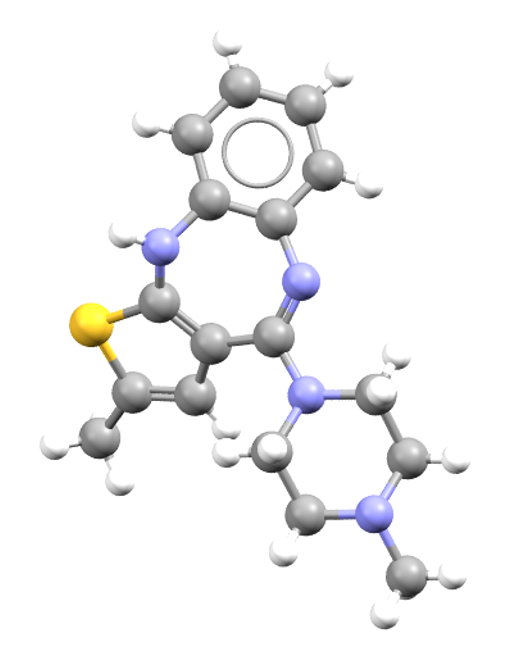 Samidorphan is an HCl salt hydrate also used in the treatment of schizophrenia and bipolar I disorder. CSD refcode: XOSMOI.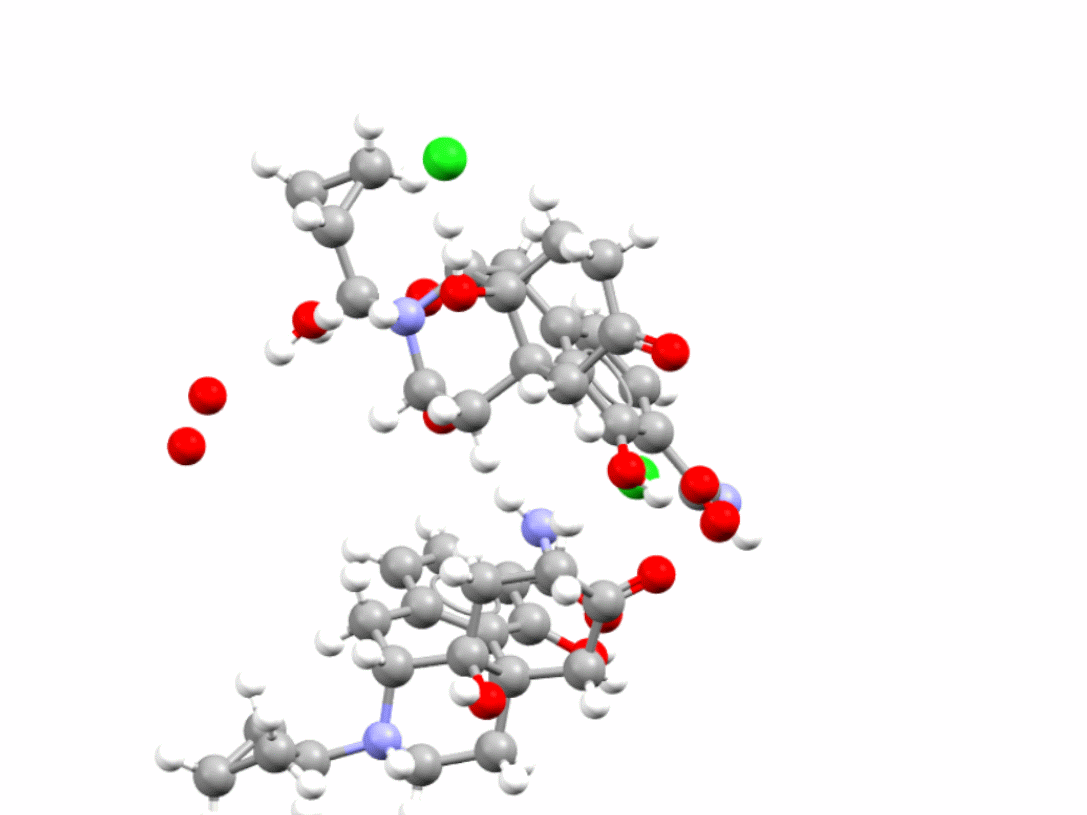 Learn more
Read the whole article, "2021 FDA approvals" in Nature Reviews Drug Discovery.
Learn more about the CSD—the world's repository for small-molecule organic and metal-organic crystal structures.
See how researchers around the world use Mercury—CCDC's crystal structure visualization and exploration software—to advance structural science research.
Tags
Drug Development (43)
Drug Discovery (59)
FDA (2)
News (11)
Pharmaceutical Discovery (35)
Pharmaceuticals (43)