Search for chemical structures by a sketch – improved searching with CSD Sketcher v1.0
We're pleased to announce the first full release of CSD Sketcher - which incorporates feedback from your testing of the alpha release. See what's new and try it for yourself.
October 2020 – CSD Sketcher alpha release
Last October we announced the alpha release of our new CSD Sketcher as part of WebCSD. This new chemical sketching tool, specifically designed for database searching, is an important new component to the CSD Software Portfolio and contributes to our long-term plans to increase our focus towards web-based delivery of our tools.
This first alpha release was a demonstration of the CCDC's core values of agility and customer centricity. The aim of this was to gather user feedback on our progress and, if necessary, to improve and adapt our design in response to our users' needs. With this purpose in mind, the release was accompanied by a quick user survey to help you provide us with your opinions and comments. I was delighted with the level of response from the community, and a little relieved that the feedback was generally positive! Just over 60% of respondents reported that their experience with the new CSD Sketcher was either 'Positive' or 'Very positive', with encouraging feedback on the ease of use and responsive behaviour. Of course, it was not all good news, and the limited functionality from this first release was noted. Importantly for us, this survey gave us confidence going into the next stage of the CSD Sketcher's development, and today I am pleased to announce the release of a new version of the CSD Sketcher.
August 2021 – CSD Sketcher v1.0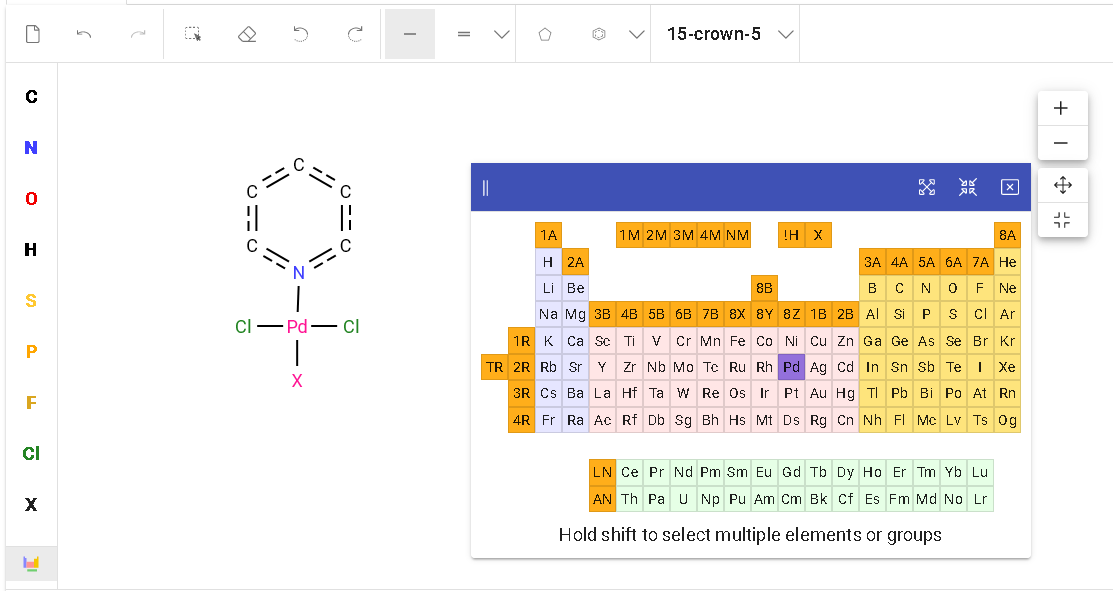 The updated CSD Sketcher showing some of the new functionality available. Try it yourself here!
What's changed in the new CSD Sketcher?
The latest version of the CSD Sketcher comes with a whole range of new functionalities that we hope will make it quicker and easier to create the chemical substructure query you need.
Some of these new features are focussed on the practicalities of drawing a potentially large or complex query. For example, it is now possible to easily move, rotate and merge molecules within the canvas, as well as new pan and zoom features for the whole drawing area. We have also included a first implementation of a templates menu – giving users the ability to construct their query including a commonly-used building block such as a steroid template or trifluoromethyl group.
Many of the new features in this release, however, provide improved search capabilities. The periodic table widget has been extended to allow queries containing atoms with multiple atom types, including options to quickly and easily select any row, group or category of elements (such as non-metals) in the table. When an atom is selected on the canvas, a new right-click menu gives access to a series of 2D search constraints, such as the number of connected atoms, atom charge or cyclicity.
In addition, our UX design team – with the help of a series of user interviews – have ensured the CSD Sketcher retains its clean, simple and easy to use style that users liked from the alpha release.
Where can I try it?
Find the CSD Sketcher here – do complete the survey afterwards to tell us your thoughts on the changes
What comes next?
This is by no means the end of the development of the CSD Sketcher. We are continuing to add new features and improvements with the aim of releasing another update before the end of 2021.
Don't miss any CSD updates and releases – register for our monthly newsletter here to stay up-to-date.
Tags
CSD Sketcher (3)
WebCSD (20)