Obituary – Dr David G. Watson
A Pivotal Member in the Development of the CSD
"Our thoughts extend to Dr Watson's family and friends, and we give thanks to his many scientific achievements. Dr Watson combined elements of rigour and pragmatism that were pivotal in establishing the CSD as we know it today."

Dr Jürgen Harter, CEO, CCDC
We are sorry to learn of the passing of Dr David G. Watson who worked alongside Dr Olga Kennard in establishing the Cambridge Structural Database (CSD) in 1965.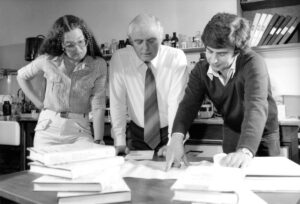 David Watson was a chemical crystallographer who authored over 20 publications (see Dr Watson's ResearchGate record). His early interests lay in the structural determination of natural products and organic phosphates. In 1965 Dr Watson joined the CCDC, and according to Dr Kennard, he "was one of the first to take a very active part in the development of the CCDC and the CSD," a role he continued to play for over 30 years.
Dr Watson went on to head the database team at the CCDC and served on many international data committees, including the International Union of Crystallography and CODATA.
He cultivated international partnerships making regular visits to NIST, the measurement standards laboratory, in the US.
"I first met David when he interviewed me for my position at CCDC. At the time David managed the Database Group and was my first CCDC line manager. I feel privileged to have worked under David's quiet and understated management and to have had the benefit of his experience and expertise going right back to the foundation of CCDC. He will be sorely missed by all who knew him."

Stephen Holgate, Senior Scientific Editor, CCDC
"I was fortunate enough to work in the database group for David for a couple of years until his retirement and I will remember him fondly as a very softly spoken gentleman who took immense pride in the CCDC and the database."

Tracy Allgood, Customer Success Manager, CCDC
David's knowledge, experience and dedication were pivotal to establishing the CSD and enabling its development as a widely respected resource. He will be greatly missed by all who had the pleasure of knowing him.
Tags
CSD (140)
CSD Database (40)