Meet the team! Rob Willacy, Materials Science Team Leader
2019 has been an exciting year for CCDC. We've attended many conferences both in the UK and internationally, delivered workshops worldwide, formed a new scientific advisory board, and of course reached a million structures in the Cambridge Structural Database! We've also been growing our team both in the UK and the US to help us continue our mission of advancing structural science into 2020 and beyond. We'd like to introduce one of our newest team members, Rob Willacy, who joins us from GSK. He tells us about his passion for understanding solid state chemical problems and how he hopes to apply his experience at CCDC to drive the centre's materials tools and services.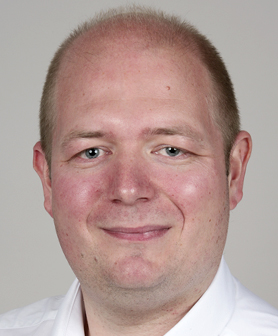 "Joining the CCDC as the Materials Science Team Leader in September was a great pleasure for me and what a time to be joining! Not only have the CCDC recently passed the one millionth structure mark, but there are some really exciting scientific projects ongoing and coming up for me to understand and help bring to fruition.
Time has passed quickly since starting, so it's about time I introduced myself to the wider community. My name is Rob Willacy, I graduated from Liverpool University in 2003 with an MChem in Chemistry with Pharmacology, and then joined GlaxoSmithKline as a Development Chemist in the same year.
During my first few years at GSK I was exposed to the importance of the solid state and I developed a passion for thinking about and understanding solid state chemical problems. As my career developed, I expanded this into process design for particle control of both size and solid state. I found the nucleation process in crystallisation absolutely fascinating; the point at which solution becomes solid, the chemical processes that go on in that fraction of a second, and the far-reaching implications of the outcome of the nucleation event (intended or otherwise). Linking that back into my process chemistry training increased my awareness of the difficulty of understanding the role impurities/additives play in the outcome of a crystallisation, their impact in the solid-state outcome, and the shape and size of the crystals obtained.
One of the benefits of working for GSK was that I was in a great place to see how drug development fits together as a whole, from the interface with drug discovery through process design, to commercialisation, regulatory submissions and trouble shooting established processes; all of this whilst maintaining focus on the patient at the end of the supply chain.
These experiences cemented how crucial predictive modelling, rational design and data-driven risk assessment can be in getting the right work done at the right time in development. This spans from solid form selection, to process design for crystallisation, and particle design for formulation. Modelling approaches are not designed to replace the experimental ones in such a highly regulated field as pharmaceutical manufacturing, however they can guide how to most effectively use resources to address the most risky elements to a new material, be that targeted polymorph screening, understanding the hydration behaviour or prediction of particle properties.
As I was telling friends and colleagues of my decision to accept my new role at CCDC, I found myself repeating the same few thoughts again and again. I was aware of CCDC as earlier this year I was fortunate to meet many of the Materials Science team at an event held at CCDC where they discussed recent developments in the Materials Suite. I was struck by the passion, dedication and high-quality science from the whole team. So when I was presented with the opportunity to lead the Materials Science team, it was an opportunity that I knew was right for me and would allow me to help develop this team even further to deliver more tools based on high quality science."
If you'd like to know more about CSD-Materials, or ask our materials team anything about the tools, upcoming projects or anything else, please don't hesitate to get in touch at .
Upcoming white paper
Also, make sure to keep an eye out for our upcoming white paper 'From Crystal Structures to Patients'.  CCDC have collaborated with Sycryst Ltd to produce a review on how crystal structures help in the development of commercially viable new medicines.  Register your interest below, and we will send you a copy when its published!