Inspiring Young Minds through Crystal Adventures at the 2023 Cambridge Festival
The annual Cambridge Festival, the interdisciplinary event covering all aspects of the world-leading research happening at Cambridge University, launched this Saturday with activities including our Crystal Adventures activities to get children engaged with and inspired by structural science.
Participants hunted for the structures of everyday compounds, viewed crystal growth in real time under the microscope, matched proteins to ligands with a card game, and built crystal structure models.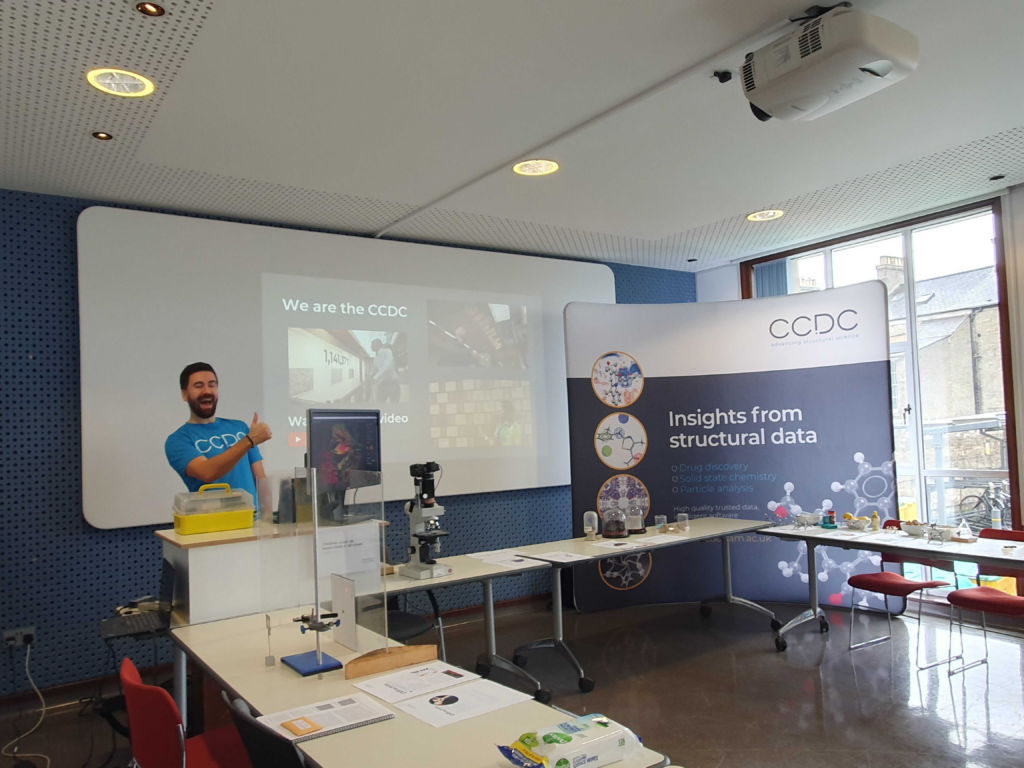 The Cambridge Festival is an interdisciplinary series of over 350 events and activities covering all aspects of research at Cambridge University. As a partner institution of the University, we were delighted to get involved once more, showcasing structural chemistry and inspiring young minds to think about the fascinating ways in which molecular-scale structure affects everyday experience.
We explored how crystal packing changes the texture of chocolate, and how crystallography lets us figure out what these molecules and structures actually look like in 3D, and how we can store this information. This was also the first time in four years that we are able to run in-person activities, a much welcome return to normality! Perhaps most importantly, the tactile activities that are so vital for making the experience for children fun and memorable were once again on the table (literally!).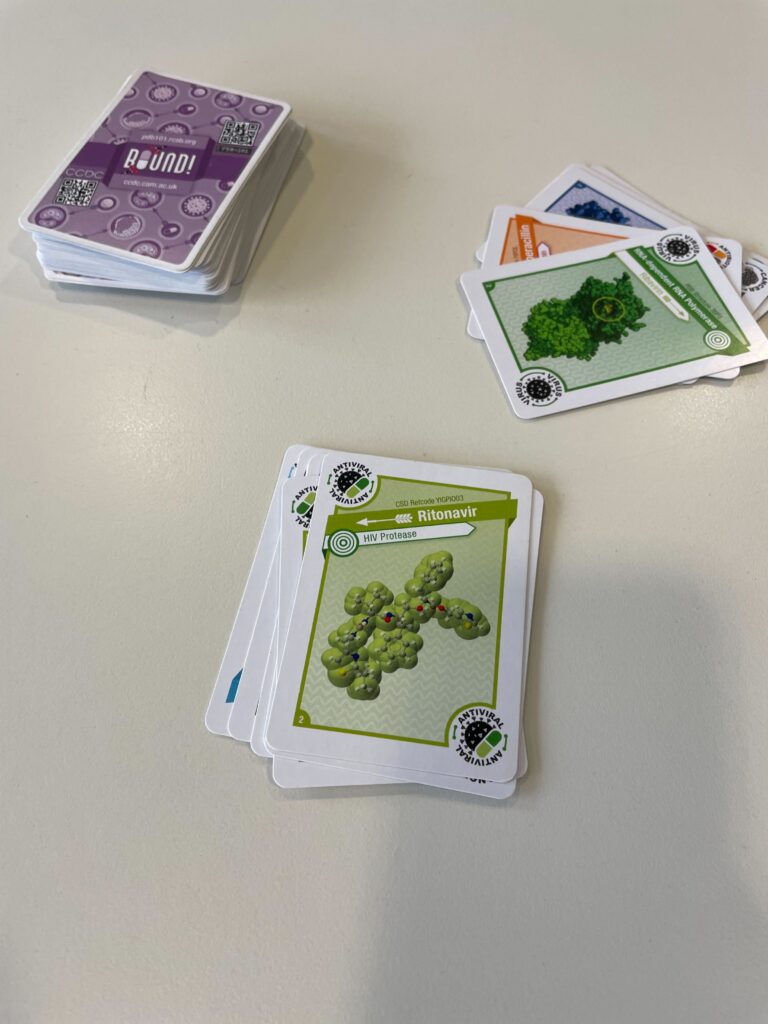 Crystal Structure Detectives
With our Identikit activity, participants hunted down the crystal structures of everyday molecules (including citric acid, aspirin, sucrose, cocoa butter and carvone) from the Cambridge Structural Database (CSD), the world's largest repository of crystallographic data, simultaneously learning the chemistry of how molecules are structured and some fun facts about the compounds that they tracked down.
We even took this further, thinking about how one of the molecules, a triglyceride found in chocolate, can change its texture, much in the same way that not all the LEGO walls they were asked to build were of equal strength! This was nicely complemented with 3D modelling activities and a delve into a virtual reality molecule experience.
SciArt and the Birth of Crystals
A highlight this year was the demonstration of the real-time crystallization of paracetamol, an aesthetically breath taking fusion of science and photography developed by CCDC's Dr Alexandru Moldovan that captivated audiences of younger and older generations alike. In the demonstration, a droplet of paracetamol solution crystallized on a slide under a polarized light microscope.
The birth of tiny paracetamol crystals was captured, followed by a burst of crystal growth – a race to see which crystals will win and which will lose in the battle for space on the microscope slide. The demonstration was made all the more mesmerising by the application of crossed polarizers, revealing the evolving crystals in spectacular birefringence colours.
What messages did the participants take away from this? The first, a simple but critical finding: the solid white disc that people consume for a headache is actually made of crystals! The second, an appreciation of the processes happening when many familiar substances – from salt to honey – crystallize, or perhaps even the most basic realization that crystallization is taking place all around us, all the time! This activity was complemented by our diffraction demonstration where light was used in different ways to uncover the mystery of objects many, many times smaller than those seen on the microscope.
Find out More
Here at the CCDC we aspire to inspire, and we firmly believe in the importance of promoting STEM subjects and making structural chemistry accessible to global audiences. We have many entertaining outreach resources, including a number of activities from the Cambridge Festival, adapted for use in the home for anyone to use free of charge from our outreach pages.
If you couldn't make it this year, be sure check out our Crystal Adventures online and try the activities from the comfort of your home.
Even though our day at the Cambridge Festival is now over, keep watching our  news  and events pages and sign up to our newsletter.  And don't forget to follow us on social media!
Tags
CSD (114)
CSD Database (29)
CSD Educators (17)
Education (3)
Education and Outreach (23)