Q&A with the new CCDC Head of Science
On 1st March 2021 we welcomed Dr Susan Reutzel-Edens as the new Head of Science. Here she has answered a few questions to explain how she came to this role, and her future vision for the CCDC.
In this role Susan will provide strategic oversight in developing our data and software to meet the evolving needs of our users across industry and academia.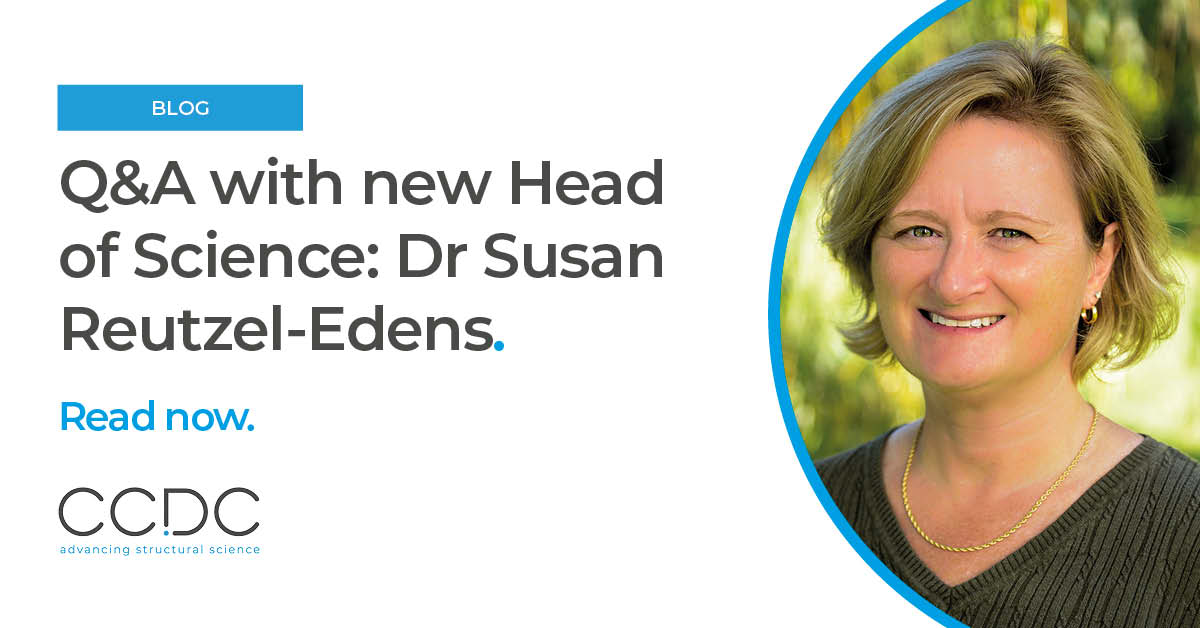 About Susan
Susan earned her PhD at the University of Minnesota (1991) under the direction of the late Professor Margaret C. Etter, and thereafter joined Eli Lilly and Company. There, she founded the solid form design program and for two decades led a team of cross-functional scientists charged with finding commercially-viable crystalline forms for small-molecule drug products.
She has contributed to the development of more than 150 compounds, is a named inventor on 12 US patents, and has published over 50 papers and book chapters on key aspects of solid form development.
Her research interests include crystal polymorphism, materials design and engineering, crystal nucleation and growth, structure-property relationships, crystal structure prediction and the digital design of drug products.
She was elected Fellow of the Royal Society of Chemistry in 2018 and in 2019 joined the Scientific Advisory Board of the Cambridge Crystallographic Data Centre. She is also an adjunct professor at Purdue University and currently serves on the CrystEngComm Editorial Board, the Editorial Advisory Boards of the Journal of Pharmaceutical Sciences and Pharmaceutical Research, and as a topic editor for Crystal Growth and Design.
How did you get into structural chemistry as a field?
My entry into structural chemistry came early in my career during my PhD research on hydrogen bond directed co-crystallization. Under the direction of the late Margaret (Peggy) C. Etter, I studied ways in which hydrogen bonds can be used as design elements to control how organic molecules assemble in the solid state.
The link between structures and properties was rather evident at a time when just 15-20 crystal structures could fill a single thesis, thanks in part to access to a much larger repository of crystallographic data, the Cambridge Structural Database.
Ultimately, my PhD in organic solid-state chemistry exposed me to the complications of crystal polymorphism and hydrate formation, paving the way for me to join Eli Lilly and Company, where I had the privilege of working with crystal forms of amazing drug candidates for nearly 30 years.
What attracted you to move from an industry role with Lilly to the CCDC?
Years ago, in leading the solid-state form team at Lilly, I had recognized that a step change in our modus operandi was in order to meet the challenges presented by increasingly complex "LY" molecules, tight timelines and resource constraints. I was intrigued by the prospect of digital solid form design, but as an experimentalist, would need help to develop in-house computer-aided solid form design capabilities.
This would entail building an extensive network of collaborations around the world and participating in key initiatives, such as the CCDC Crystal Form Consortium to develop solid form informatics tools and applications, and more recently, the CSP Solutions Consortium. Working closely with the CCDC on multiple fronts helped me to gradually shift to a digital paradigm for transforming LY molecules into Lilly medicines.
My story is not unusual, however, as the CCDC continues to serve the structural science community at large as a trusted broker of crystallographic data and provider of scientific software and consulting services.
Now, I welcome the opportunity to join CCDC as the Head of Science, to bring my decades of industrial experience and perspectives to help shape scientific strategy at the CCDC, and to engage and partner with the entire structural science community to advance molecular and materials science.
What potential do you see for further applications of the CSD and CCDC software?
With unprecedented access to high fidelity structural data – experimental and increasingly computed – and a growing number of CCDC tools now at the fingertips of specialists and non-specialists alike, I can think of no better time to be a structural scientist. Not only is novel chemistry becoming increasingly represented as the CSD continues to grow exponentially, but so too are non-ambient, metastable and disordered phases so important to understanding crystal nucleation and growth.
"We are now poised to ask (and answer) fundamental questions, such as how and why some structures crystallize, while others might be difficult or even impossible to obtain."
On the applied side of structural science, there is little doubt that the validation of computational chemistry methods and training of machine learning algorithms for enabling and accelerating computer-aided, statistically driven molecular and materials design will continue to heavily rely on the CSD and CCDC software. This, of course, also presents real opportunities to consider how CCDC tools might help to bridge molecule discovery and materials design, inform decision making and minimize risk.
What are the opportunities for future development of the CSD and CCDC tools?
The more than 1 million structures in the CSD reflects the chemistry of the global crystallography community over the last 50+ years. However, we can expect that as structural science evolves over the next 50 years and beyond, so too will the CSD.
Consider, for example, the growing interest in new modalities, such as mRNA therapies and oral peptides. These medium-sized molecules present unique challenges, different from the small molecules in the CSD and the large molecules in the PDB, and they are notoriously difficult to crystallize. As the hurdles to crystallizing these molecules (and their precursors) are overcome, new CCDC visualization and analysis tools will likely be needed. Here, we can expect to build on tricks of the trade from the small and large molecule communities, which will not only advance structural science in medium molecule space, but also strengthen the linkage between the CSD and the PDB.
Other opportunities for future development of the CSD and CCDC tools for applications ranging from energy harvesting to computer-aided drug design will undoubtedly be driven by the push toward digital first approaches. Connecting the CSD to reliable molecule and material property databases will be essential, as will be tools and approaches to model and predict molecular, solid form and particle properties. Extending the CCDC tools in place for 3D crystal structure visualization and analysis to interrogate the surface chemistry of crystals will be important to understanding how to selectively target predicted structures in crystallization, as well as to inhibit crystal nucleation and growth when needed.
What are your

top priorities when you first start this position?
As Head of Science, one of my top priorities will be to create the scientific vision for the CCDC and integrate it with the overall strategic framework of the organization.
I look forward to working closely with the Discovery Science and Materials Science teams, consulting with members of the Executive Leadership team and engaging the Scientific Advisory Board and other key stakeholders along the way, as I formulate plans that not only build on CCDC's excellent foundation of scientific research and development, but also serve the worldwide structural science community.
To keep up to date with changes in the CSD including data releases, software updates and more, register for our monthly newsletter and follow us on Twitter or LinkedIn.
You're also welcome to join us at our regular webinars and user meetings – see the schedule here.