CCDC Global UGM 2020 – the future of in silico science
The final CCDC user group meeting of 2020 welcomed over 100 attendees. The virtual meeting saw presentations on new advances from diverse areas of structural science, and as a community we debated the future of in silico science through polls and discussion.
Who uses the CSD?
Our user group meetings show how diverse areas of science make use of CSD data and software – from drug discovery to new materials development, and in chemistry teaching and education.
In this meeting we heard from users spanning many different categories.
Advances in drug discovery;
Alice Brink from University of the Free State in South Africa spoke on The nuclearity manipulation of radiopharmaceuticals: How to bridge the CSD & PDB
Chris Radoux from Exscientia spoke on Automating Structure-Based Design Using Fragment Hotspot Maps
John Liebschuetz from Astex Pharmaceuticals spoke on Is unusual torsional ligand geometry prevalent in highly resolved protein-ligand X-Ray structures?
Jeremie Mortier from Bayer spoke on; Computationally Empowered Workflow identifies novel KRASG12C

Inhibitor
Materials development;
Elena Besley from University of Nottingham spoke on Computational screening of porous materials for biogas upgrading
Simon Parsons from University of Edinburgh spoke on

Intermolecular Interactions and Materials Properties in Coordination
Colin Seaton from Bradford University spoke on Constructing Multi-Component Crystals of Chiral and Achiral Components: Combining Computation and Experiments
Chemistry teaching and education;
Thierry d'Almeida from Commissariat à l'Energie Atomique et aux Energies Alternatives (CEA) spoke on Developing bright training solutions for Africa – Experiences from Benin
Jason Benedict from University of Buffalo spoke on Shining bright – the US Crystal Growing Competition
Many of the talks were recorded for meeting attendees – if you would like to access the presentations please contact us.
Community discussion and panel – the future of

in silico

science
Following the presentations we heard from all attendees through polls and discussion, then also from our panel speakers Aurora Cruz-Cabeza from the University of Manchester, and Martin Stahl from Roche.
We focused on questions around the future of in silico science – and how events this year may change attracting and engaging the next generation of structural scientists. The results of our audience questions and polls are shown below.
To start us off we discussed; has 2020 changed the public perception of science? Quite a split of opinion here, and we discussed how this could vary around the world too
Next we looked at our working habits, which have changed for everyone this year – but are they here to stay? The majority of our community hope to keep some mixture of on-site and remote work in the future.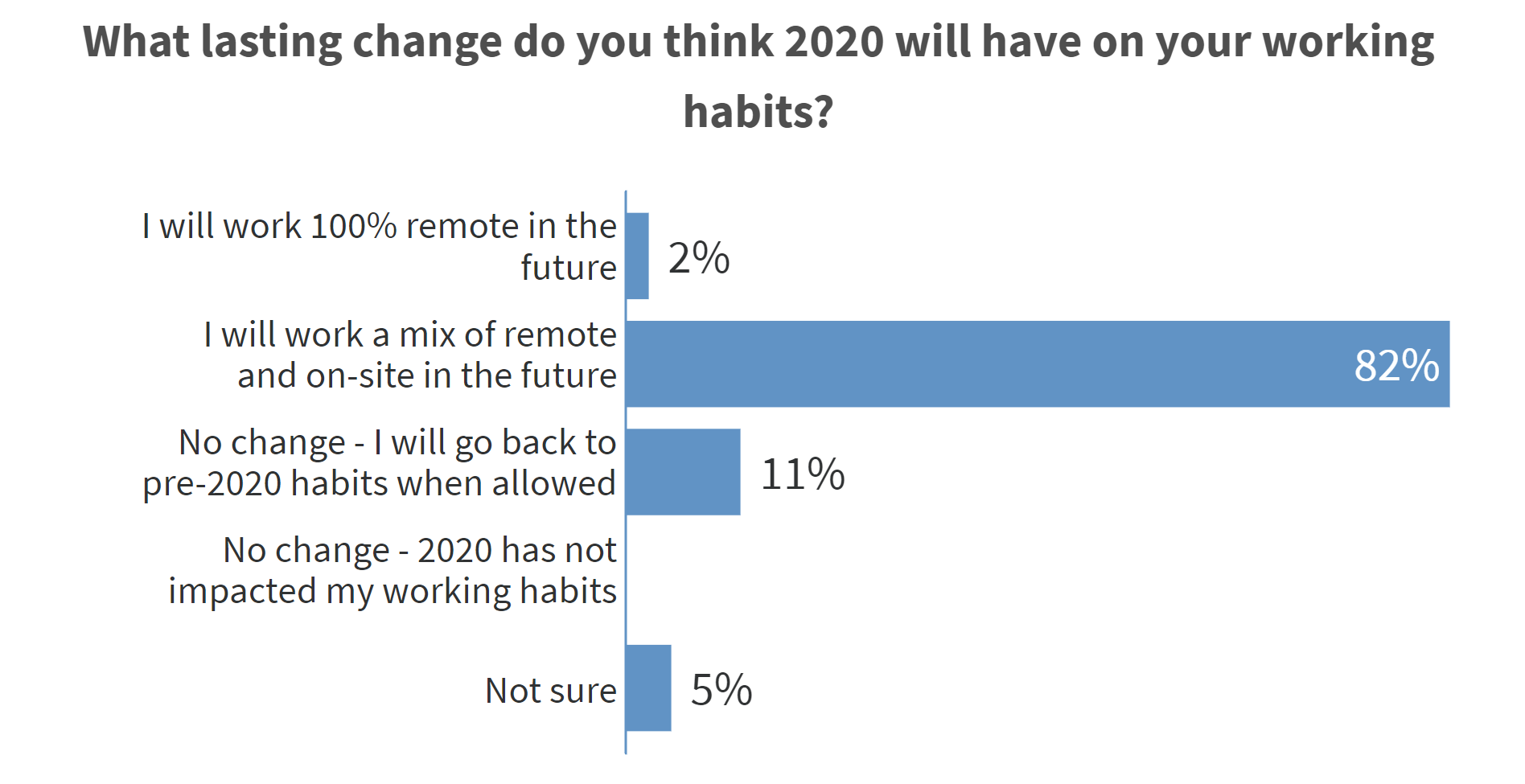 We then turned to how leaders can support scientists working remotely – and how they can provide opportunities to learn and grow. Scientific conferences as well as informal peer-to-peer learning are key in most scientist's development, allowing you to spark new ideas, debate and collaborate across fields. The group embraced virtual learning opportunities like meetings, webinars and videos – but also underlined the importance of making sure there is a time and culture that allows for these to be part of your schedule.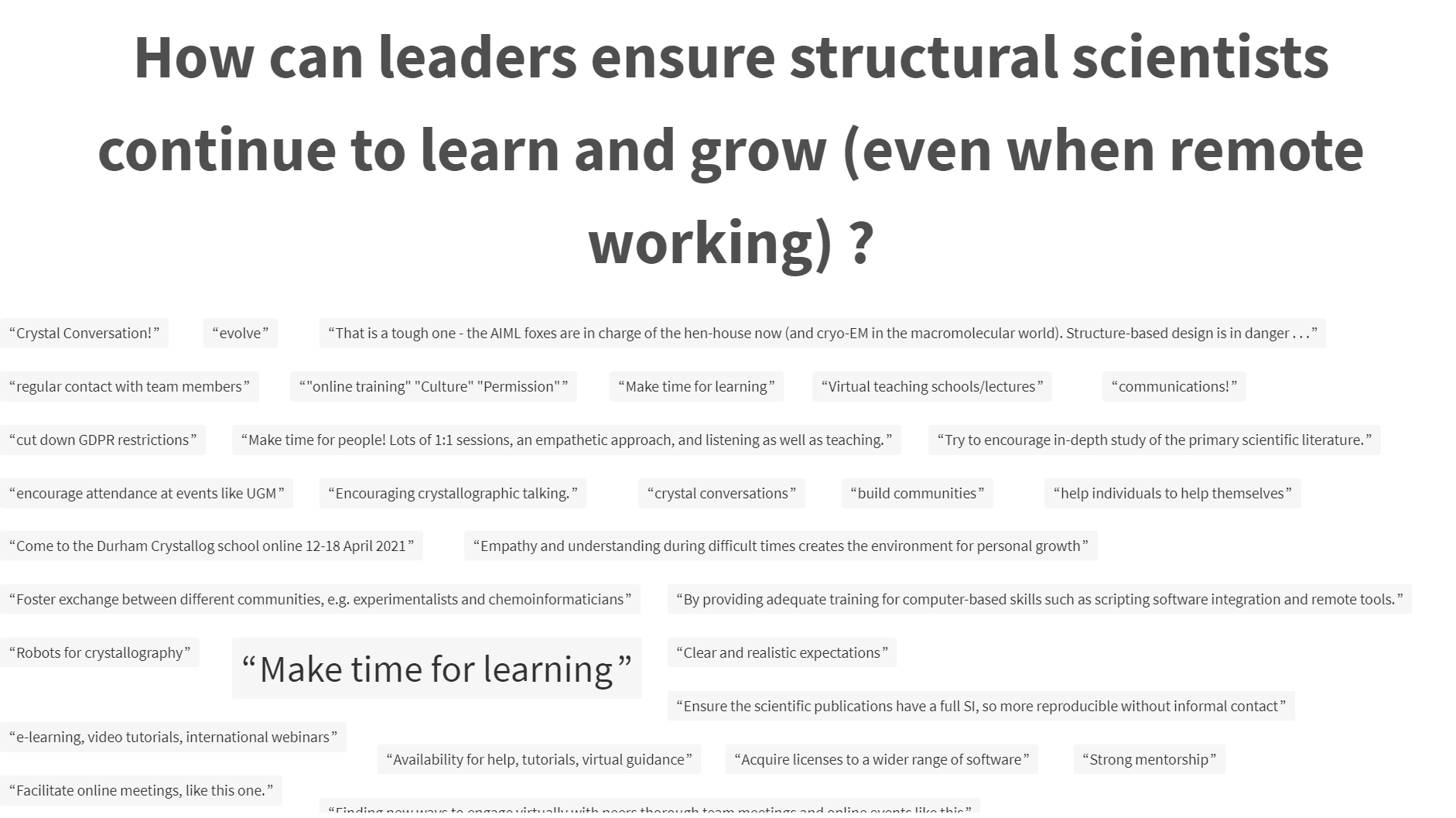 Finally we asked how organisations can promote diversity and inclusion in structural science – with outreach and early engagement emerging as core ideas. The group also touched on the importance of advocacy and strong mentors to keep people engaged and reduce the "leaky pipeline" which sees many leaving science as they progress through later stages of education and careers.

Attendees can access the recorded presentations through the meeting web page now – we will email the link as a reminder.
Thank you again to our speakers and attendees – we hope you enjoyed the day!
Please join us at any of our upcoming events – we hold regular webinars and virtual meetings to connect with our users, share our news and hear about your work. Find out more here.