Careers Clinic at Crystal Conversations September meeting
The September Crystal Conversations meeting included a Careers Clinic session. Attendees asked our panel of 6 professionals questions about career options, progression and advice for the future of jobs in STEM.
What is Crystal Conversations?
The Crystal Conversations virtual meeting series aims to bring together scientists with an interest in solid form chemistry – from crystallographers, to crystal engineers, chemists and physicists.
Throughout 2020 the community has missed scientific conferences and the opportunities they bring to learn about new research, and to grow as a scientist through presentation experience, feedback and meeting others in connected fields.
Crystal Conversations offers "tutorials, talks and tea breaks" in a friendly virtual meeting where we welcome a mixture of presentations, tutorials and social or networking activities. We especially welcome students and early career researchers, although everybody is welcome to join.
The Panel
To give attendees a broad range of experience they could draw on, we tried to find a panel with diverse careers in all different areas – though they all started with STEM subjects in their education.
Dr Susan Reutzel-Edens – Senior Research Advisor – Lilly

Following a bachelors and PhD in Chemistry, Susan has been with Eli Lilly and Company for almost 30 years in their small molecule design and development team. She has also at various times held positions as Adjunct Professor at Purdue University Indianapolis and Butler University. Her research interests include organic solid-state chemistry, crystal polymorphism, digital drug product design and crystal form intellectual property.

Keith Chadwick – Science Advisor – Goodwin

After his BsC and PhD in Chemistry and Chemical Engineering, Keith pursued postdoctoral positions and even became an Assistant Professor before deciding that academia was not for him. He moved to be a Science Advisor at a law firm dealing with patents and IP protection, and has enjoyed the new opportunities this brings – still using his scientific experience but applied in a new way.

Professor Sarah (Sally) Price – University College London

Following her PhD in Theoretical Chemistry in 1980, Sally took a Postdoc position at University of Chicago, then became a Royal Society University Research Fellow at the University of Cambridge. Since 1989 she has been at University College London, with her present work looking at quantum mechanics of inter-molecular forces.

Dr Jonathan Betts – Director of Business Development – CCDC

Jonathan moved from "bench to business" – after his PhD in Biochemistry he pursued a Postdoc position but then decided to look at the business side of science. He completed an MBA and this began his journey focused on customer support, sales and marketing of science products and services. After working in technology transfer and founding a startup which he took through to exit, he joined CCDC to head the Business Development team.

Prof. Noor Shaker – Founder and CEO – Glamorous.ai

A serial entrepreneur, Noor grew an interest in tech and computing from games and has transferred this to her love of biotech. She is a researcher and innovator holding multiple patents, 50 publications and has authored a book. She was also recognised in the BBC 100 Women 2019 list, and named as an MIT innovator under 35.

Dr Jennifer Webb – Team Leader in Particle Science – Syngenta

Jennifer moved from Mathematics in her undergraduate degree, to a multi-disciplinary chemistry PhD and was an EPSRC Early Career Fellow. After this she took a position at Syngenta, and has worked her way up to lead her own team in Particle Science. Her research interests include understanding the crystallisation process and particle surface science.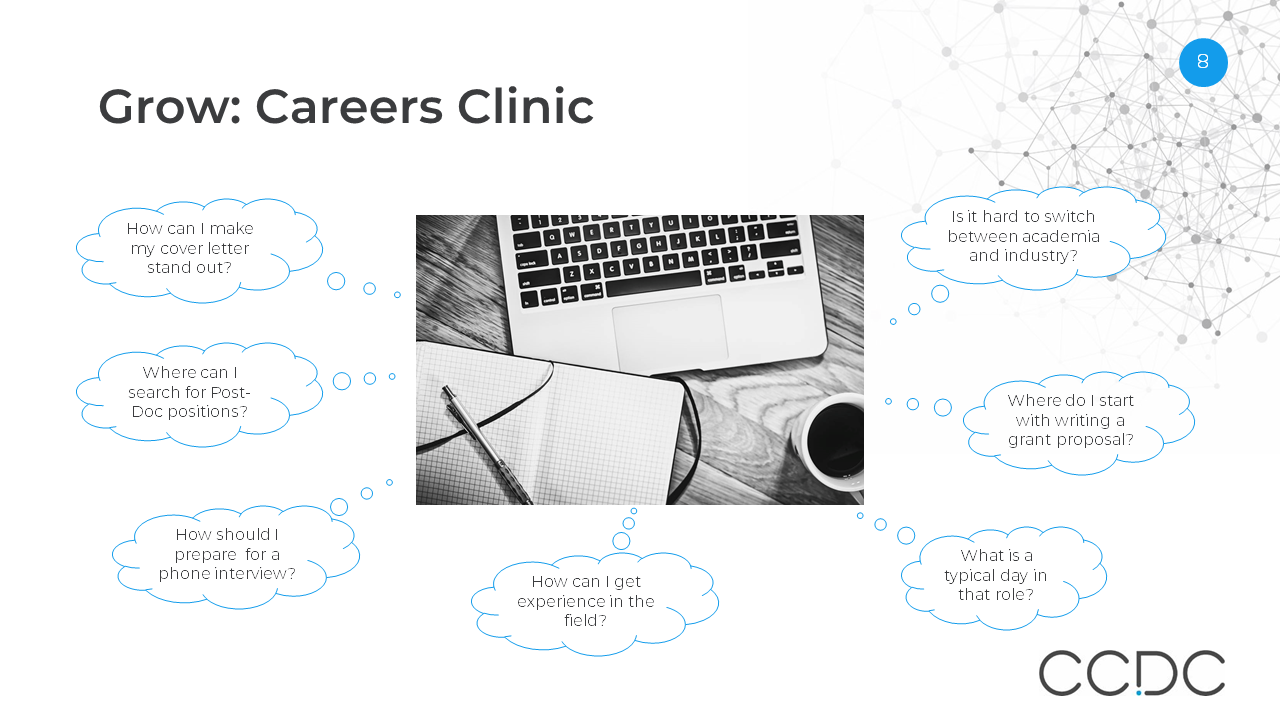 Q&A
After introductions attendees were free to ask the panel anything – here's a selection of the great careers advice that followed.
Q: Susan – I'm very interested in working in a solid state role at a pharmaceutical company like Eli Lilly but my PhD is in synthesising and characterising metal-organic frameworks. Knowing where the industry is now and what companies are looking for, would you recommend looking for a postdoc in small molecule solid state group or just apply for open positions?
A: Take a look at post-graduate positions – they can really make you more marketable. Industrial post-grad roles are a great way to get exposure to that industry – look for open positions and just apply. You will learn so much about all aspects of the pharma industry, all the different things that come together to bring compounds to market, so you can make sure it's what you want to do.
Q: Jonathan – how can I get commercial experience after studying science at university?
A: One good route is technology transfer. This worked for me many years ago, and this has since become really professionalised with scholarships and the like. Working with organisations like CCDC that are on the border between academia and industry is also good as it allows you to understand different areas and their needs.
Q: Sally – what fields or scientific specialities do you think careers in 10 years will centre on?
A: It's really impossible to say! 10 years ago things that seemed impossible are now commonplace – advances in computational power led by the gaming industry have made so many things possible that we just didn't imagine. Funding bodies of course want to see the possible outcomes, that will surely stay. I think there will be more crossover, more multi-disciplinary research. For that its so important to understand one another, we need to spend time talking to each other, understand the differences in techniques between different fields.
Q: Jennifer – do you think having a multi-disciplinary university education and PhD has helped you to realise different job and career options? And was your secondment useful to see different aspects of the company, is this something you'd recommend?
A: My multi-disciplinary education was certainly useful, but as long as you have the drive to learn, to keep growing, then you'll be able to move and change in your career. Doing a secondment is very valuable in just getting your foot in the door and letting you meet people, you can then find out if you like a specific area once you understand the company more.
Q: To all the women panellists – have you experienced discrimination as a female scientist in your field, and in academia? With your years of experience, what advice would you give to young female scientists to position themselves in academia?
A: Sally – I'd adapt my grandmother's advice; "don't marry for money, just love where money is" as balancing the demands of a career, particularly for mobility, with your personal life is so much easier with some partners than others. There has been great progress, and of course we hope there is more to come – not only for women but other kinds of discrimination such as race. Overall, if you're good and you know what you want, that will come through – employers will recognise if you are making a positive contribution. In academia, women must publish enough in their own name or with a diverse set of people to establish independence, so people don't assume you're just following the direction of a more senior colleague.
A: Susan – many female colleagues in high positions have encountered discrimination, and had to accumulate more contributions than male colleagues to reach the same level as them. Develop yourself, become an expert in the field you love – people will recognise that. Those at the forefront of their field who know what discrimination looks like need to call it out when they see it. We need these trailblazers to build a more equitable system.
A: Jennifer – I agree with everybody's points here, there are definitely still areas of discrimination and unconscious bias. Things are getting better, but slowly. I look back on subtle things that happen and at the time you didn't realise that was discrimination. Remember there are networks and initiatives to support women so do look for help.
Q: To everybody – if you could go back in time to your job-seeking self, what piece of advice would you give yourself?
A: Jennifer – don't try to get your dream job straight away. I remember being worried about figuring out what to do, but all experience is valuable. You can really grow as a person if you build your experience and try things out.
A: Jonathan – define your purpose, and work out the steps to get where you want to go. Understand the culture of an organisation to decide if you want to join them. And importantly, don't flog a dead horse – know when to move on!
A: Susan – there are many different pathways to a successful career, and your career is a life long journey. Each role is a stepping stone. In a competitive job market, understand what it is you bring to a job to make you stand out – and think about how you can continuously improve. Look for opportunities where you can fill a gap and market yourself so you can eventually get that dream job.
A: Sally – talk to a mentor / supporter in the area you want to move into. Have them look at your CV, your application, and help you see if what you bring matches to what they are looking for. This doesn't have to be a 100% match, but its useful to get that perspective and get advice from someone on getting to the next stage of getting that interview and using it to ensure that the position is appropriate. There were a lot of lectureships that I was so pleased that I hadn't been offered after I had secured a much more suitable position.
Thank you again to our fantastic panel – and to our attendees for some great questions across so many topics. If you'd like to join a future Crystal Conversations meeting you can find out more and register here, or look out for other conferences and events CCDC is attending or hosting here.
Tags
Crystal Conversations (3)
Crystal Engineers (2)
Crystallographers (6)
Scientific Research (8)