Working from home as a scientist – how to research remotely
The current COVID-19 outbreak is making more people work remotely, either by choice or by company or government policies - but with the right approaches, scientists around the world continue their research work.
Although this will be a new experience for some, home working is an increasingly common option, including in the scientific community. While it may seem like a disruption, great research can still be done if the right tools and approaches are used.
.
How common is home working for scientists?
The 2019 CIPD report on Flexible Working provides an interesting comparison of the picture now, and 10 years ago. Their survey in 2011 found that 16% of employees had made use of working from home, while in their 2018 survey this figure had jumped to 33%.
.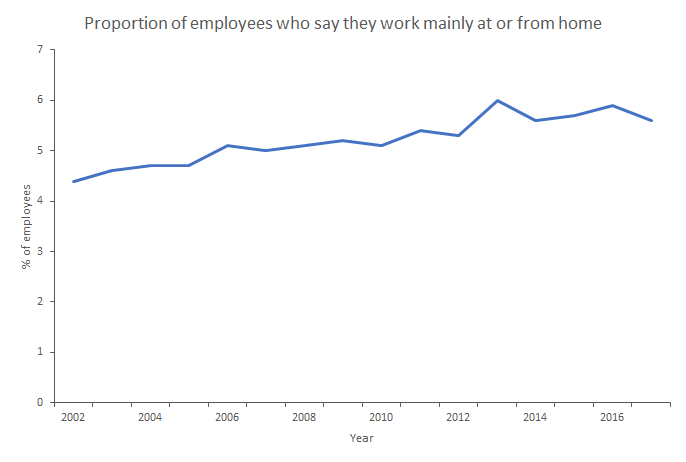 Proportion of employees working at home from 2002 to 2017, from the CIPD Report on Flexible Working 2019
.
While there are few statistics on scientists specifically, most of the major employers in this space offer some flexible working arrangements. Scientific work is becoming more mobile and flexible in general, with websites like Kolabtree providing a science-based equivalent to popular "gig" sites like Bark or Upwork.
Remote learning has been possible for a long time, but increasingly remote access is moving to include remote access to a variety of experimental apparatus, from telescopes to electron microscopes, GC-MS and even automatic titrators with web cam monitoring.
Technology of course plays a vital role in remote working – C&EN have reported on chemical researchers continuing their work and collaborations online, even using video conferencing to defend a PhD thesis remotely.
Of course, in-silico research is a field especially suited to remote working, and it's growing. The US Bureau of Labor Statistics predicted a 15% increase in "computer and information research scientists" from 2012 to 2022 – a greater increase than the average.
.
How can you do effective research remotely?
Many people in the CCDC team have been making use of remote working for years – in fact we have a whole team in the USA as well as our main UK office. Here we've collected the best tips and stories on how they make remote research work best.
.
Use the right tools – Pete Wood, Product Manager
Confluence and Jira have revolutionised working from home for me – they're easy to use, cloud-based and collaborative. Google docs is a great choice for collaborative data analysis.
With good communication remote research can deliver great results – for example I co-authored this paper entirely remotely. We had no physical meetings and used Google docs and phone calls to complete the work.
.
Keep motivated and connected – Jeff Lengyel, Materials Scientist
During grad school I worked with several groups who I never met in person – mainly doing physical property measurements for groups in other departments who didn't have the instrumentation needed. We used email and DropBox and co-authored several papers like this.
In my current role I use Slack and GoToMeeting extensively to keep in touch with the whole team or have one-to-one conversations.
Having coffee on-tap and my cats nearby is also a great morale boost – and reminds me to take breaks!
.
Set boundaries and routine – Stewart Adcock, Technical Manager
Many people find that work and home life blur together after a while, which isn't great for your well-being. My solution was to define a space where I would work, and stick to that area only.
Creating a routine also helps – especially to signal the end of the day! I have a little ceremony to shut down my PC and signal the end of working time. Friends of mine even use a "mock commute" during which they can reflect and wind-down – taking themselves for a walk when work ends and the evening begins.
.
Work in a way that suits you – Alex Moldovan, PhD Research Associate
I'm naturally more productive on focused work in the evening, so I try to structure my remote working days to reflect that.
Of course I dial in to meetings at their fixed times, but for my independent work I prefer to do planning and admin in the mornings, then longer more focused tasks later on. This might mean doing another burst of work in the evening, but it's when I'm most productive.
.
.
All our software can be used by scientists working remotely from their main institution or company.
If you have any difficulties accessing our tools while working from home, check our support pages or get in touch and we'll help wherever we can.