New functionality now available to depositors
We are delighted to announce that this week we have added some new functionality to our deposition services. Depositors are now able to link to raw data files and provide crystallographer details during deposition as well as revise their data more easily.
Many people in the crystallographic community have highlighted the need to preserve and share raw data and an informative overview of the preservation of raw diffraction data was published earlier this month by John Helliwell et al. in IUCrJ DOI: 10.1107/S2052252517013690. At CCDC we have listened to the feedback from you and are pleased to say our deposition process now includes a section to allow depositors to add details of where the raw diffraction data can be found. These raw data DOIs will be linked from Access Structures and WebCSD once data is published and in time will be embedded into CIFs downloaded from the CCDC and included in the metadata we send to DataCite.
Over the last few years it isn't just raw diffraction data that has been a topic for discussion for the crystallographic community. An increasing number of crystallographers have been approaching us to say they are not listed as an author on journal articles that are associated with their data. We hope that by encouraging the depositor of the data to include details of the crystallographer during the deposition process we will help increase the credit crystallographers receive for their work. This functionality also helps us to ensure the integrity of data in CSD as the crystallographer responsible for the data refinement should be easier to contact by the user community. It is great to see this new functionality being used already, DOI: 10.5517/ccdc.csd.cc1q3342.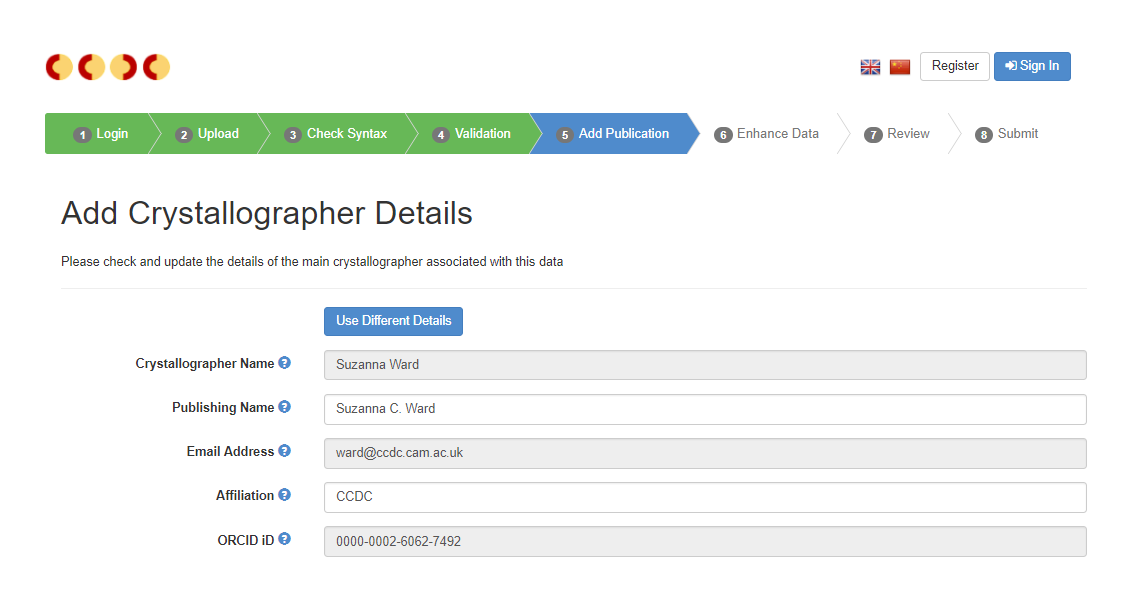 Screenshot showing how you can add crystallographer details during deposition
The revision of crystal data is a common occurrence as part of the publishing process, and with this in mind we have added new functionality to help registered users to easily revise their crystal data stored at the CCDC. These changes should ensure the revised data is made available more rapidly, and enables the depositor to see more information about their data prior to revision. As many journal publishers use the CCDC's services to access crystallographic data pre-publication we hope these improvements will help improve the publication experience for our depositors.
All of this new functionality is available through the deposition process ( /deposit)  as well as through the My Structures service which we launched last year which allows depositors to view, update and share their depositions.
We would love to hear about your experiences using this new functionality and how you would like our deposition services to develop and what your priorities and requirements are. If you have any comments or suggestions please send an email to:
We also have a number of FAQs on our support pages to help answer any questions you may have.
Thank you once again for all your valued depositions; collectively through the CSD you have already shared over 915,000 structures.