Simple 3D Printing from a Crystal Structure
For those of you that have never tried to design and produce a 3D printed model of a chemical structure, start now! It's surprisingly addictive, a lot of fun, and genuinely quite useful if you are looking for ideas to expand or improve your science communication whether that is in a public outreach setting, in education or in research. If you have already started 3D printing chemical structures, then I'm probably preaching to the converted, but the rest of this post may still give you some new ideas.
There are lots of different ways to produce 3D printable model files from crystal structures. In fact, a recent publication in the Journal of Cheminformatics by Scalfani and co-workers describes a collection of thousands of models that have been pre-generated for you using an automated approach. What we've been studying at the CCDC though, and have recently published, is a very simple flexible approach using our freely available structural visualisation program Mercury. This article (http://dx.doi.org/10.1039/C6CE02412B) published in CrystEngComm by Wood, Sarjeant and co-workers, explains how easy the workflow is, but critically also covers how much control the user has over the scale of the model, the file format, the display style, even the size of each atom and bond.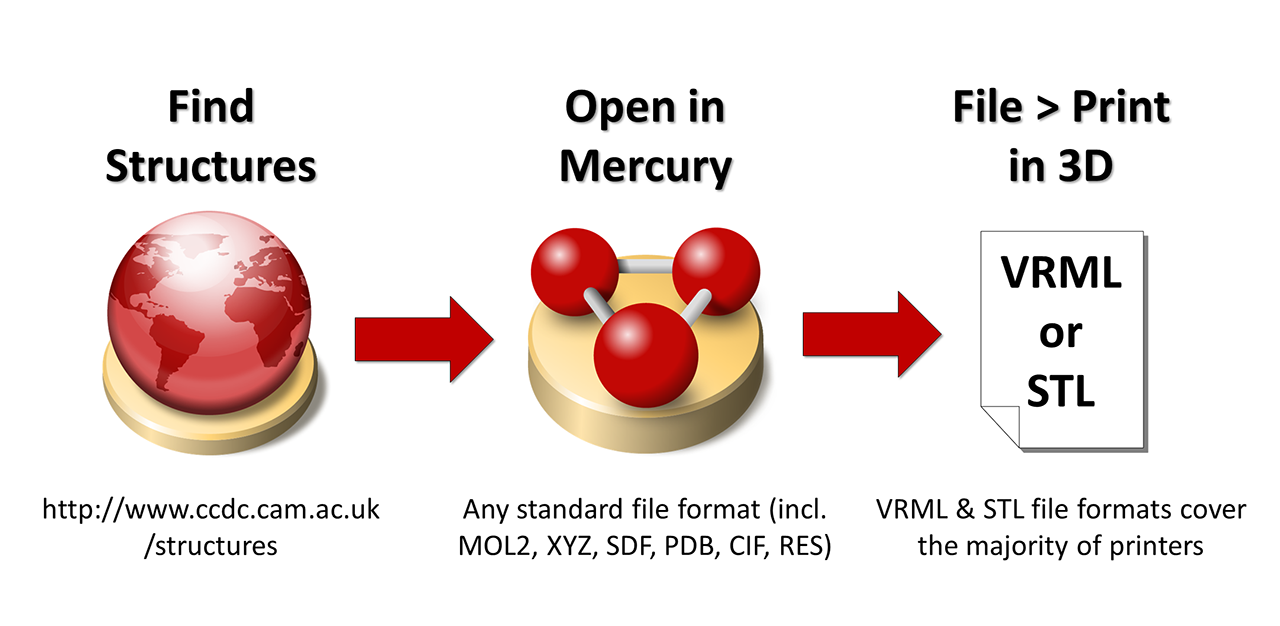 The basic workflow for producing a 3D printable model file from any experimental or theoretical structural model using Mercury.
The key thing that we've discovered over the course of developing this approach is that the model you design will be strongly influenced by the type of material you intend to print in, whether the model will be colour or monochrome and exactly what chemistry you want to convey with the model. If you are creating models for a public outreach setting, particularly involving children, you probably want to design robust models (perhaps using strong, flexible plastic) and colourful ones. A model to convey a complex and detailed piece of structural research for a research setting, however, could likely be much more delicate. Different scenarios call for different display styles and a different balance between atom and bond thicknesses.
In the recent publication, we've tried to provide a series of different 3D printing example scenarios and explain the thought process behind the design decisions for the set of models in each case. All the models themselves are also shared in the supplementary information of the paper in case you want to try printing them out or editing them for your own use.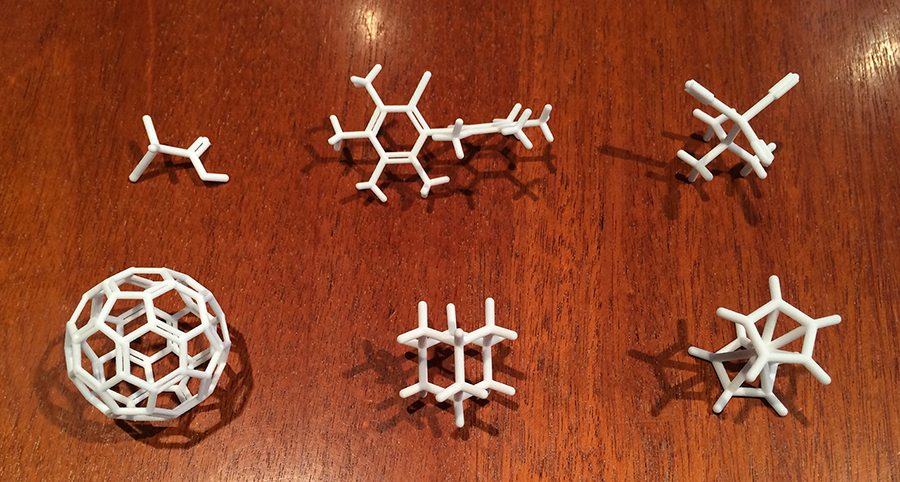 Some example 3D printed models, in this case a selection of compounds illustrating molecular point group symmetry for an undergraduate chemistry education setting. Clockwise from top left; C1 (bromo-fluoroacetic acid), C2 (dibromo-octamethyl-biphenyl), C3v (trimethylammonio-tricyanoborate), D5h (ruthenocene), Td (adamantane) and Ih (buckminsterfullerene)
We are really looking forward to seeing how 3D printed structural chemistry models are used by our community in outreach, education and research. Studies have indicated that students in general often respond better to 3D models than traditional textbook diagrams; one area of particularly strong potential is the use of 3D printed models to help convey structural concepts to blind and visually impaired students. We hope that this work inspires educators in chemistry to consider 3D printing in the classroom as a way of enriching the learning experience for all students.
Please do get in touch with us to talk about your 3D printing ideas, ask for advice if you want to, and tell us about the innovative ways you've used 3D printing to help with your projects. Over the last two summers we have run a 3D printing competition on Twitter and in the summer of 2017 we will be holding the third annual #CSD3DPrint competition. Get your thinking caps on now for models to design, 3D print and photograph to enter in this year's contest!
Pete Wood, Senior Research and Applications Scientist
Amy Sarjeant, Outreach and Education Manager