Webinar: Turning Data into Discoveries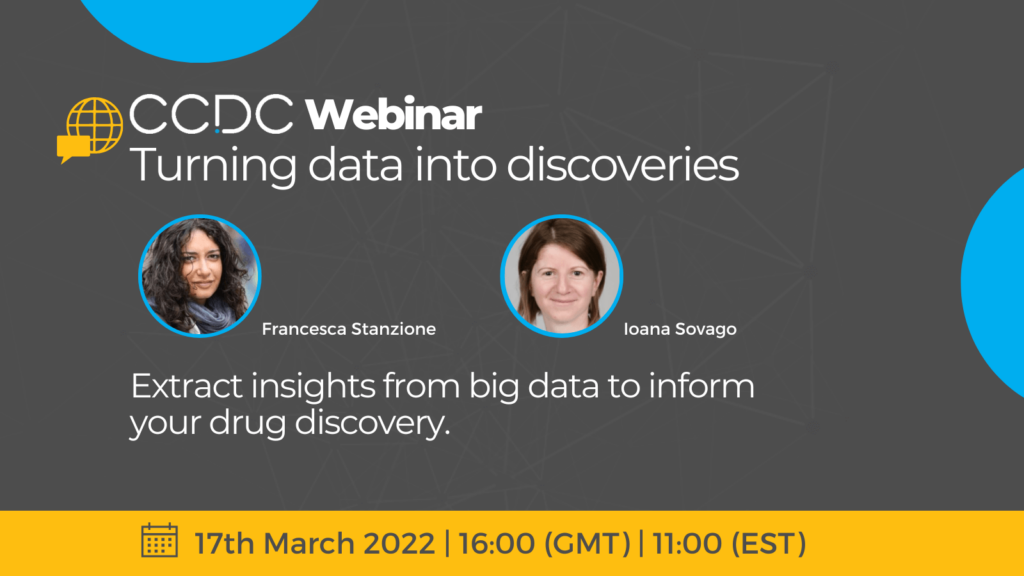 Gathering trusted data is good, but using it to generate actionable insights is great.
In this webinar, we explore tools that turn data into discoveries – allowing scientists to extract insights from big data to directly inform the discovery and development of pharmaceuticals, agrochemicals, and functional materials.
The Cambridge Structural Database (CSD) is a CoreTrustSeal certified repository housing over a million empirical crystal structures. It's trusted by Pfizer, Roche, Novartis, AstraZeneca, Syngenta, and many more to derive insights that advance their R&D.
We will show you how to use two tools that let you apply knowledge from the CSD to your system, getting insights to advance your research.
Validating conformations: learn to verify the stability of your target compound by comparing molecular conformations to known, empirical results with Mogul. Mogul is a CCDC component that leverages the CSD as a knowledge base for deriving the quality of intramolecular geometries.
Understanding interactions: learn how interactions are likely to occur with full interaction maps (FIMs). FIMs enable you to generate a 3D interaction map that wraps around a molecule and represents the regions with a higher probability to find interactions with certain functional groups.
Who should attend?
Computational chemists or medicinal chemists who want to validate the geometry of experimental or predicted structures;
Scientists that need to predict the likely conformations of a system of interest;
Materials scientists who need to understand the stability and properties of a system;
Pharmaceutical researchers looking to mitigate risks in the process of drug development.
This webinar was live on 17th March 2022.
Not for you? Explore our other events and webinars here.