CCDC Virtual Workshop: Investigating Solid Form Stability: Understanding Hydrogen Bond Propensity in Mercury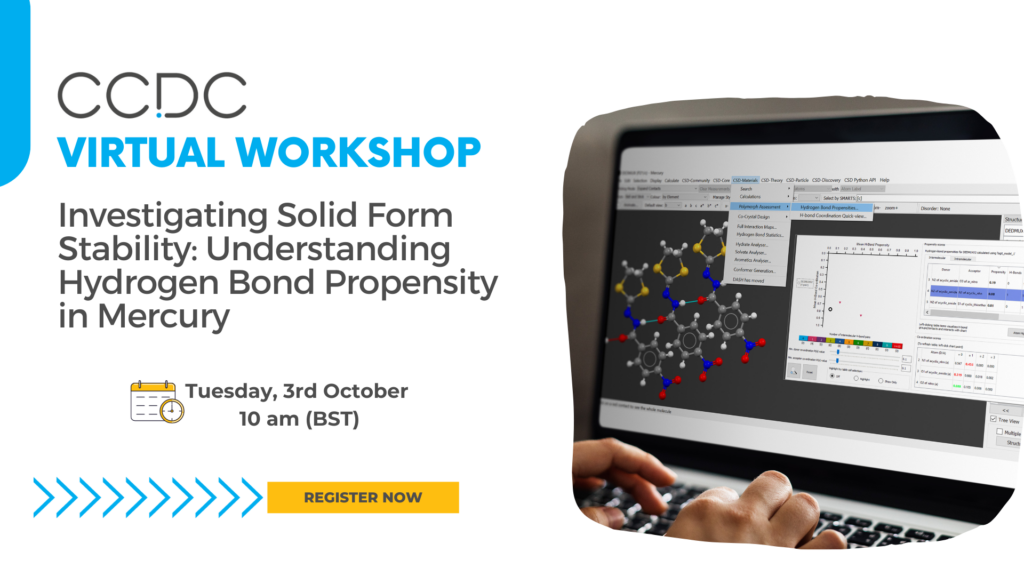 Tuesday, 3rd of October – 10 am (BST)
If you're interested in comparing polymorphic systems based on their hydrogen bonding networks, and want to understand how to calculate and visualise which hydrogen bonds are likely to form and how hydrogen bonding networks are ranked, then this free, 90-minute, hands-on workshop is for you!
What we'll cover
We will focus on the updated Hydrogen Bond Propensity tool from CSD-Materials to study the hydrogen bond network in a crystal structure and how it ranks compared to putative networks. We will also see how to complement this analysis using Full Interaction Maps (FIMs).
We will have hands-on activities to teach you how to use the desktop molecular visualizer software Mercury for:
Visualizing hydrogen bonds effectively.
Calculating Hydrogen Bond Propensity and interpreting the results.
Complementing this analysis using FIMs.
The tutors hosting the event have developed these tools for solid form analysis alongside experts from major pharmaceutical companies and academia.
The workshop will be recorded and all registered participants will have access to the recording.
Software requirements
As this is an interactive workshop, you'll need access to CSD-Materials. All academic licenses include CSD-Materials. If you are unsure whether your institution already has a license, please get in touch with us.
If you have already got the CSD installed you will need to check you have the most up to date version of the software 2023.2. Click here for more information.
If you are unsure whether your institution already has a license, please get in touch with us so you can obtain access to the software in advance of this workshop. If your institution does not have access to the CSD, we can provide you with a temporary licence. When you register below, please check "No" to the question: "Do you or your institution have a current full CSD licence?" and we'll get you set up.
Entry requirements
This workshop is open to everyone who wants to learn hands-on how to use Hydrogen Bond Propensity and FIMs.
Familiarity with navigating Mercury and calculating FIMs would be ideal. If you have not used Mercury or FIMs before, we would recommend the following modules from our free online training courses in our CSDU platform:
Who should attend?
Formulation scientists.
Research scientists concerned with structural stability.
PhD and post-doc researchers interested in polymorphism and crystal engineering.
Solid form scientists working in the pharmaceutical and agrochemical industries.
Scientists involved in polymorph assessments.
If you have any questions email us at hello@ccdc.cam.ac.uk
Register