CCDC Virtual Workshop: Explore Crystal Structures Online Using WebCSD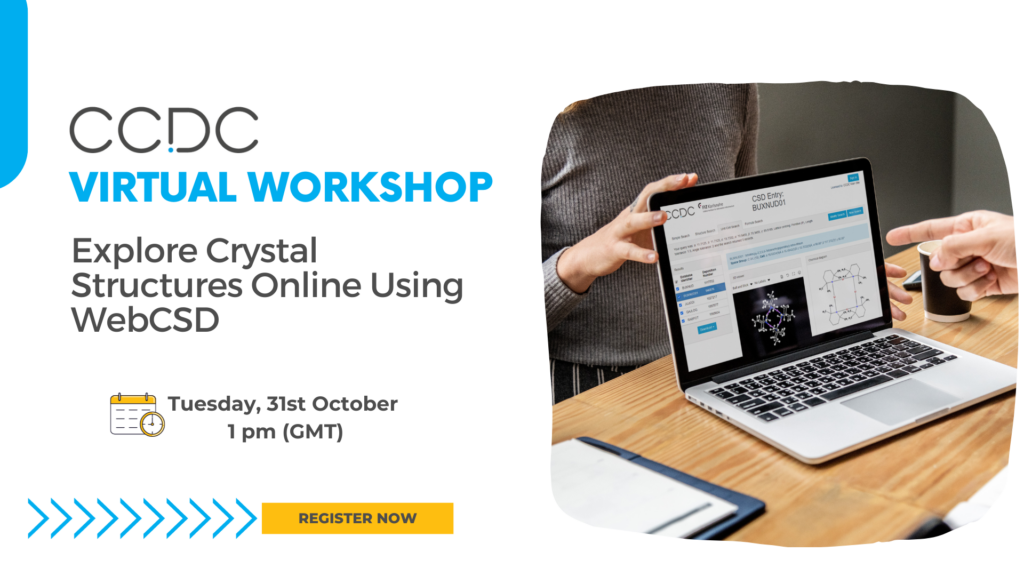 Tuesday, 31st of October – 1 pm (GMT)
If you're interested in exploring structures in the Cambridge Structural Database (CSD) and retrieving structural data and information online using WebCSD, then this free, 90-minute, hands-on workshop is for you!
You can search the CSD online using WebCSD. Which is accessible from the same portal as Access Structures, enables you to run advanced searches, with query options such a substructure, bibliographic, unit cell, text terms, and similarity searching. Through WebCSD you are also able to perform 3D searching analogous to functionality found in the desktop software ConQuest. By using WebCSD you can access up to the minute data and no installation of software is required.
What we'll cover
In this Virtual Workshop, we will introduce the online search platforms for the CSD: WebCSD and Access Structures. The main focus of the session will be the advanced search options and the most recent features and improvements to the WebCSD platform. Along the way we will provide some tips and guidance for setting up effective searches so you can be confident of finding the most relevant structures for your research.
We will cover:
What Access Structures and WebCSD are.
How to build a search, navigate hitlists and export results in WebCSD.
How to construct a 2D structure search of the CSD using WebCSD.
How WebCSD can be used to find similar structures of interest.
How to perform advanced 3D structure searches to explore distances, angles, rings, vectors and planes.
The workshop will have a hands-on part so you can explore using WebCSD yourself, including:
How to construct a 2D structure search.
How to add additional parameters and constraints to a structure search.
How to perform a 3D structure search and navigate the results.
This workshop will be recorded and all registered participants will have access to the recording.
Software requirements
As this is an interactive workshop, you'll need access to the WebCSD portal with a valid CSD license. All CSD licenses include access to WebCSD and you can find information on how to log-in here.
If you are unsure whether your institution already has a license, please get in touch with us so you can obtain access to the software in advance of this workshop. If your institution does not have access to the CSD, we can provide you with a temporary licence. When you register below, please check "No" to the question: "Do you or your institution have a current full CSD licence?" and we'll get you set up.
Entry requirements
This workshop is open to everyone who wants to learn hands-on how to search the CSD using WebCSD.
Who should attend?
Crystallographers and structural scientists.
Academic and industrial chemists interested in exploring molecules in the solid form.
PhD and post-doc researchers in the field of crystallography and materials science.
Researchers and scientists who work with the CSD or their own structural databases.
Industrial scientists using structural informatics to design new materials.
Educators looking to incorporate the CSD into their teaching.
If you have any questions email us at hello@ccdc.cam.ac.uk.
Register