CCDC Virtual Workshop: Analysing Porous Materials Using Mercury and ConQuest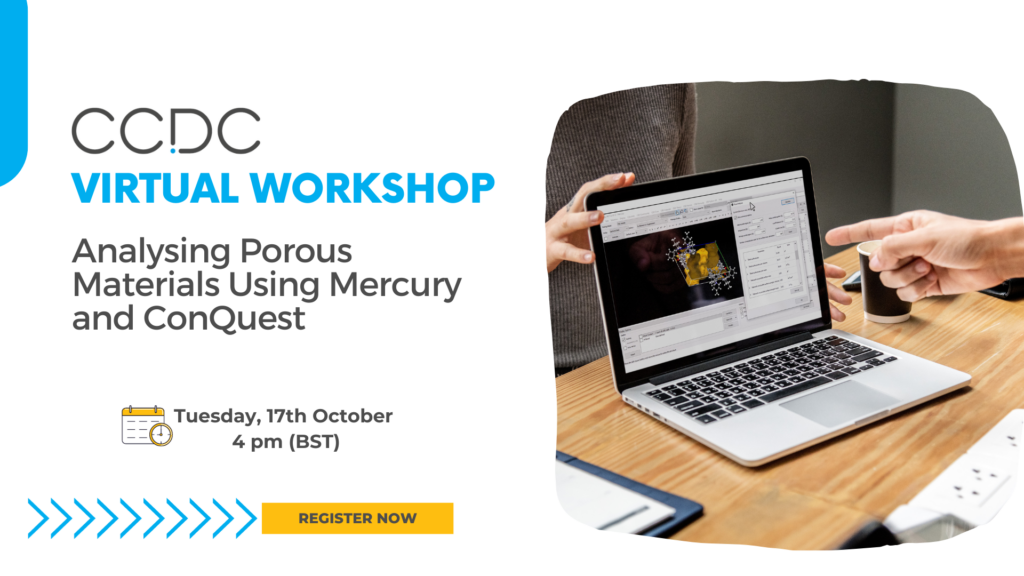 Tuesday, 17th of October – 4 pm (BST)
In this Virtual Workshop, we will focus on tools from the CSD Software designed to enhance and assist the visualization and analysis of porous materials such as metal-organic frameworks (MOFs). After learning tactics to search relevant structures using ConQuest, we will focus on functionality in our desktop molecular visualizer software Mercury, including the new Pore Analyser. Along the way you will also discover some and tips and tricks to help you gain new insights from voids and porous materials using structural informatics.
We'll also have hands-on activities to teach you how to use Mercury for:
Visualizing porous materials effectively.
Analysing pore space in your structures using Pore Analyser.
Understanding porous materials.
The tutors hosting the event have developed these tools for to explore porous materials alongside leading experts in the field.
The workshop will be recorded and all registered participants will have access to the recording.
Software requirements
As this is an interactive workshop, you'll need access to CSD-Core. All licenses include CSD-Core. You will additionally need access to CSD-Materials. All academic licenses include CSD-Materials.
Entry requirements
This workshop is open to everyone who wants to learn hands-on how to use ConQuest and Mercury for porous materials analysis.
Familiarity with navigating Mercury would be ideal. If you have not used Mercury before, we would recommend the following module from our free online training courses in our CSDU platform:
Who should attend?
Research scientists concerned with metal-organics structures and the design of new materials.
PhD and post-doc researchers interested in catalysis and gas storage and separation.
Industrial scientists designing new functional materials.
Researchers who wish to learn more tips and tricks for searching and analysing structures in the CSD using the CSD software.
If you have any questions email us at hello@ccdc.cam.ac.uk.
Register